And now for some­thing com­pletely different…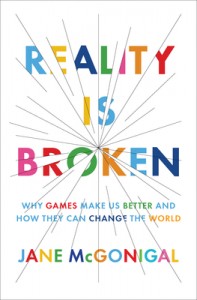 If you con­sider your­self a gamer in any capac­ity, you have prob­a­bly not gone through life with­out some­one telling you, at some point, that video games are waste of time, or you have no life, and other insult­ing mis­con­cep­tions that non-gamers often spew at us.
In her new book, Real­ity is Bro­ken , vision­ary game designer Jane McGo­ni­gal hopes to change such attitudes.
Let's be hon­est: Video games typ­i­cally get a bad rap.  Blood, sex, vio­lence, gore, moms seduc­ing 13-year-old boys on Xbox Live, the boy who shot his par­ents for tak­ing away Halo… Sen­sa­tional head­lines about video games tend to over­shadow the medium itself.
But what about all the pos­i­tive ways in which games influ­ence our lives?  Beyond basic read­ing com­pre­hen­sion and hand-eye coor­di­na­tion, video games can teach us how to set and achieve goals, adapt to new sit­u­a­tions, learn from our mis­takes, help and influ­ence oth­ers, and even how to be an effec­tive team member.
For the mil­lions of Amer­i­can gamers (over 174 mil­lion, to be more pre­cise) who already real­ize these ben­e­fits, Real­ity is Bro­ken is a refresh­ing and encour­ag­ing study of how video games improve our lives and the rea­sons why we need them.  Jane McGo­ni­gal advo­cates that video games are so omnipresent today because they are able to ful­fill basic human needs that we are oth­er­wise lack­ing in our mod­ern lives.  In short, "real­ity is bro­ken" and McGo­ni­gal believes video games are the "fix."
"Draw­ing on pos­i­tive psy­chol­ogy, cog­ni­tive sci­ence, and soci­ol­ogy, Real­ity Is Bro­ken uncov­ers how game design­ers have hit on core truths about what makes us happy and uti­lized these dis­cov­er­iesto aston­ish­ing effect in vir­tual envi­ron­ments. Videogames con­sis­tently pro­vide the exhil­a­rat­ing rewards, stim­u­lat­ing chal­lenges, and epic vic­to­ries that are so often lack­ing in the real world. But why, McGo­ni­gal asks, should we use the power of games for escapist enter­tain­ment alone? Her research sug­gests that gamers are expert prob­lem solvers and col­lab­o­ra­tors because they reg­u­larly coop­er­ate with other play­ers to over­come daunt­ing vir­tual chal­lenges, and she helped pio­neer a fast-growing genre of games that aims to turn game­play to socially pos­i­tive ends."
No mat­ter what kind of gamer you are, from the week­night WoW raider to the casual DS gamer—even non-gamer—you will find your­self inspired by the views Jane presents in her book, and per­haps even in awe at all the inno­v­a­tive, ground­break­ing ways that game design­ers through­out the world are using their tal­ents for the greater good.
Book Giveaway!
Would you like to win a copy of Real­ity is Bro­ken? Cour­tesy of The Pen­guin Press and TLC Book Tours, one hard­cover copy of the book will be given away to one of my read­ers in the U.S. or Canada.  If you'd like to enter to win, sim­ply leave a com­ment below using your email address.  I will ran­domly select a win­ner on Fri­day, Jan­u­ary 28 and will con­tact you fur­ther by email.
Good luck!