Valentine's Day is just 1 day away.  So what have you got­ten for your sweet­heart who loves video games?
Stuck for ideas? There's a ton of good blog posts out there rec­om­mend­ing awe­some V-day gifts for the spe­cial gamer in your life.  Great stuff like  this , any of these , and (my per­sonal favorite) this .
But for all the great Valentine's Day gifts for gamers, there's a whole lot of bad ones.  And bad Valentine's Day gifts can lead to cry­ing, shame, and the with­hold­ing of sex.  Lucky for you, I'm here to help you avoid such pit­falls by review­ing some of the worst gifts pos­si­ble.  This is espe­cially help­ful for you non-gamers who know you want to get your Valen­tine some­thing gamer-related, but have no idea what NOT to buy.   And if you're a gamer your­self, you should know better.
Warn­ing: Giv­ing your sig­nif­i­cant other any of the fol­low­ing items for Valentine's Day may result in a swift and imme­di­ate breakup.
Wii Fit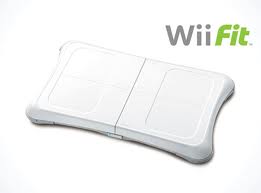 There's noth­ing like giv­ing your part­ner a Valentine's Day gift that not so sub­tly sug­gests they should lose some weight.  While I don't think it's quite as bad for a girl to give this to her man, I do pity the guy who makes the mis­take of buy­ing this for his girl­friend, espe­cially if she didn't ask for it. Get­ting a Wii Fit is anal­o­gous to receiv­ing a bath­room scale, which, FYI, usu­ally tops the lists of worst Valentine's Day gifts .  Even if your inten­tions are com­pletely inno­cent, stay on the safe side and just assume that on some level, whether sub­con­sciously or not, she will get offended.
Generic Game Systems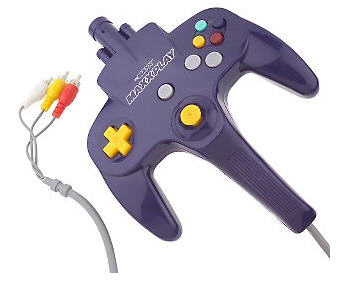 For gamers, there's noth­ing quite as dis­ap­point­ing as receiv­ing a generic game sys­tem as a gift, espe­cially if you had your heart set on a real one.  You know the ones I'm talk­ing about–they're the no-name "all in one" con­soles with built-in games that QVC tries to pawn off on clue­less moms around the hol­i­days, or the Brand X game sys­tems that resem­ble con­trollers col­lect­ing dust in some bar­gain bin at Toys 'R Us. They're easy to iden­tify because A) they're cheaply priced; B) they usu­ally say things on the box like "you'll never need to buy another game again!"; and most rec­og­niz­ably C) THEY DON'T FUCKING SAY "NINTENDO", "XBOX", or "PS3" ANYWHERE!  Nobody, I repeat NOBODY wants one of these worth­less pieces of shit as a gift on any hol­i­day, let alone Valentine's Day. Avoid!
Stu­pid Gamer T-Shirts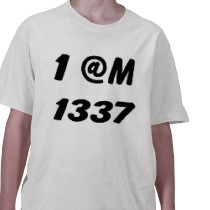 There's a lot of cool gamer t-shirts out there, but also plenty of uncool ones.  If you plan on get­ting some geeky gear for your favorite gamer, make sure you at least buy one that doesn't make them look like a com­plete douchebag.  As a gen­eral rule of thumb, you should avoid any­thing that says "1337."  Also ter­ri­ble are shirts based on shitty games, shirts boldly pro­claim­ing how much you "pwn" (unless of course you really don't, and you're just try­ing to be ironic), unfunny cus­tom design jobs that nobody under­stands but you, or per­haps this shirt .
Rock Revolution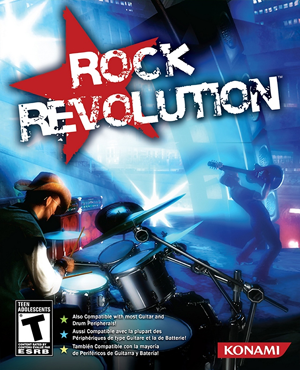 Also known as the game that ISN'T Rock Band or Gui­tar Hero.  So if your BF/GF had their heart set on either of these games for Valentine's Day and you get them Rock Rev­o­lu­tion instead, con­grats, you fail.  It's almost like the devel­op­ers delib­er­ately made this game to trick naive peo­ple into buy­ing it think­ing it's one of the other two.  The track­list is sur­pris­ingly not hor­ri­ble, but hardly any of the songs are per­formed by orig­i­nal artists.  The game has also received ter­ri­ble reviews from most crit­ics and game sites.  Com­pared to Rock Band and Gui­tar Hero, Rock Rev­o­lu­tion is undoubt­edly the red-headed stepchild.
Plug 'n' Play
TV

 Games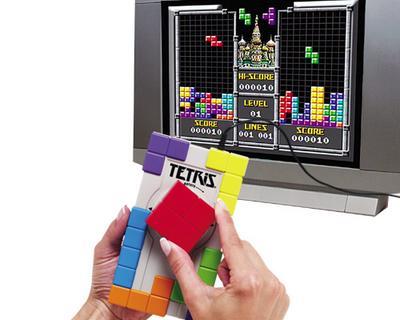 These lit­tle one-trick ponies are a close cousin to the afore­men­tioned Generic Game Sys­tems, and they come in a wide vari­ety of games rang­ing from crappy to crap­pier.  These are the kinds of video game prod­ucts you buy for some­one that only likes or has ever played one video game in their entire life (usu­ally Tetris), your grand­mother who only knows how to play card games, or young chil­dren who you don't yet trust enough not to fuck up a real con­sole.  These plug 'n' play devices are typ­i­cally very gim­micky, with prod­uct designs that go out of their way to let you know what game you're play­ing, and uncom­fort­able con­trollers. While there are SOME decent retro plug 'n' play devices that mimic clas­sic game con­soles, they usu­ally have excep­tion­ally shitty con­trollers and/or a lim­ited library of built-in games. The only time it's accept­able to buy one of these toys is if you're unable to acquire a real Atari or Com­modore 64 and are des­per­ate to play your old favorites.  Buy your Valen­tine the real thing instead!
Hope I saved you from a sex-less Valentine's Day!