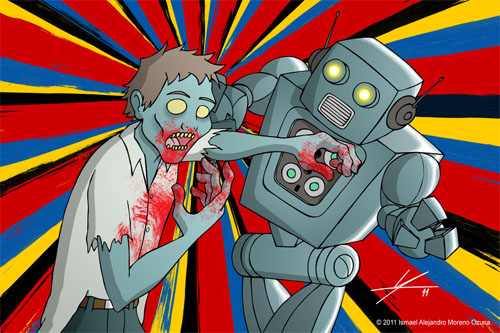 Per­son­ally, I think I would pre­fer death by robot; to be elim­i­nated in a swift, effi­cient man­ner with the cold, unfeel­ing pre­ci­sion that only a machine could deliver.  You know, as opposed to hav­ing entrails ripped from my body like hand­fuls of spaghetti while I'm still alive.
But on the other hand I'd be lying if I said the idea of a Zom­biepaca­lypse didn't excite me. I really just want to get Shaun of the Dead on some undead ass, exper­i­ment­ing with a vari­ety of house­hold objects as weapons. And that's why I'd have to go  zom­bies in this poll.
What's your ideal end-of-days scenario?