Here's a look at one artist's dras­ti­cally dif­fer­ent, mildly fright­en­ing, take on the Teenage Mutant Ninja Turtles: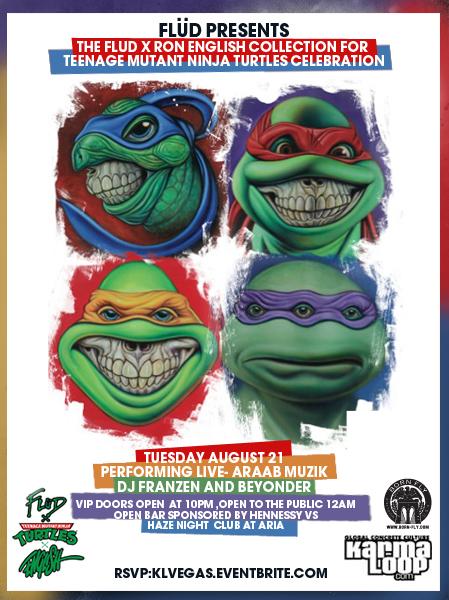 Poor Donatello looks like he went swim­ming in the lake near the  Spring­field Nuclear Power Plant .
This is a poster for an upcom­ing event in Vegas that will cel­e­brate the launch of a new line of TMNT-themed watches designed by pro­lific pop cul­ture artist Ron Eng­lish .
NYC based acces­sories brand FLuD and world renown artist Ron Eng­lish have teamed up to bring Ron's work onto his lat­est can­vas, a FLUD watch. The acces­sories and art worlds col­lide on this col­lab­o­ra­tion fea­tur­ing Ron's inter­pre­ta­tion of the world's mod rec­og­niz­able vig­i­lante mar­tial arts rep­tiles: the Teenage Mutant Ninja Tur­tles. [via Vibe ]
It's always cool to see pop cul­ture icons, even my beloved Ninja Tur­tles, inter­preted in new and dif­fer­ent ways. Ron English's work blends the famil­iar with the realm of the bizarre in bold designs and the use of eye-meltingly bright col­ors. Check out his Popa­ganda gallery  for even more twisted pop cul­ture art.