Here's a look at one artist's drastically different, mildly frightening, take on the Teenage Mutant Ninja Turtles: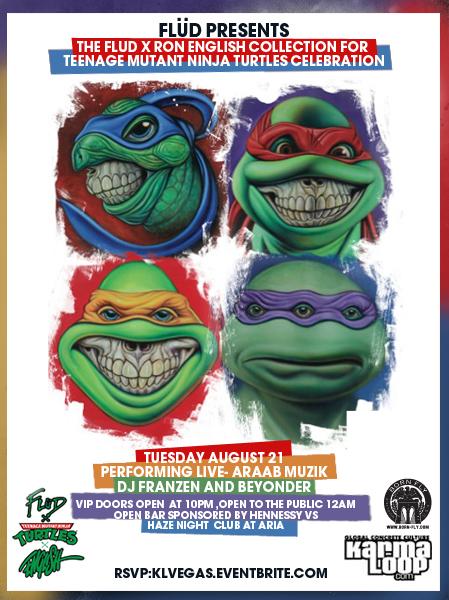 Poor Donatello looks like he went swimming in the lake near the Springfield Nuclear Power Plant.
This is a poster for an upcoming event in Vegas that will celebrate the launch of a new line of TMNT-themed watches designed by prolific pop culture artist Ron English.
NYC based accessories brand FLuD and world renown artist Ron English have teamed up to bring Ron's work onto his latest canvas, a FLUD watch. The accessories and art worlds collide on this collaboration featuring Ron's interpretation of the world's mod recognizable vigilante martial arts reptiles: the Teenage Mutant Ninja Turtles. [via Vibe]
It's always cool to see pop culture icons, even my beloved Ninja Turtles, interpreted in new and different ways. Ron English's work blends the familiar with the realm of the bizarre in bold designs and the use of eye-meltingly bright colors. Check out his Popaganda gallery for even more twisted pop culture art.