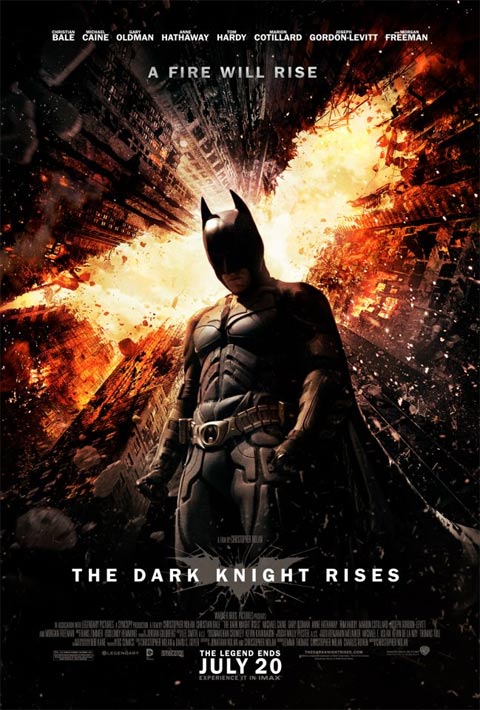 (This is a spoiler-free review.)
Up until approx­i­mately 3:00 AM this morn­ing, I didn't believe that a per­fect super­hero tril­ogy existed. The Dark Knight Rises changed my opinion.
Now, when I say "per­fect," I don't nec­es­sar­ily mean that each indi­vid­ual movie is per­fect in and of itself, for I cer­tainly have nit­picks with all of them. I'm refer­ring instead to the tril­ogy as a whole, a sin­gu­lar entity, which is the first super­hero tril­ogy ever to make good on its promise of deliv­er­ing three solid, con­sis­tent films while avoid­ing what one fel­low blog­ger friend of mine calls "The Super­hero Curse of Three."
I want to start off by talk­ing about the film's pac­ing, which is always a con­cern when a movie is as long as the run­ning time of The Dark Knight Rises (a whop­ping 168 min­utes!). I spent so much time on the edge of my seat or engrossed in the story that I never had a chance to "feel" the two hours and forty eight min­utes, nor was there ever a moment when I felt the film dragged.
If I had to sum up  The Dark Knight Rises  in one word: intense. Going in, I was skep­ti­cal that direc­tor Christo­pher Nolan would be able to top his estab­lished vision of ter­ror and despair for Gotham City that we saw in Bat­man Begins and more so in  The Dark Knight , but my God he does it. This is unques­tion­ably the dark­est, bleak­est Bat­man film yet. And its main vil­lain, Bane, is utterly terrifying—once you get used to his voice, that is.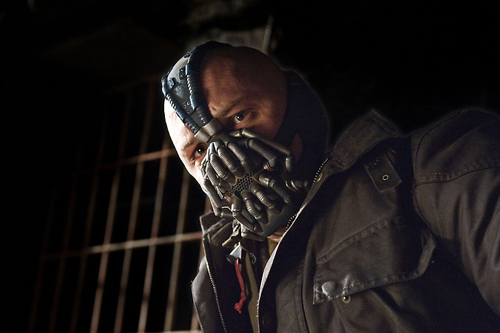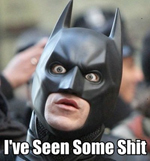 The film wastes no time estab­lish­ing Bane (Tom Hardy) as a man who—to put it bluntly— is not to be fucked with .  His very pres­ence is men­ac­ing and the acts of extreme vio­lence and ter­ror he com­mits against the cit­i­zens of Gotham City had me gasp­ing in dis­be­lief. Nolan doesn't hold any­thing back here. Imag­ine the worst ter­ror­ist act you can think of. Now mul­ti­ply that by eleven—that's how Bane rolls. You thought The Joker was badass? Psh!
But Bane isn't just a heart­less vil­lain arche­type. He's given a back­story that slowly unfolds through­out the film and cul­mi­nates in a rather shock­ing twist end­ing that will make you actu­ally feel for the guy. When we finally learn his true motives, we're also given answers to ques­tions we've had since Bat­man Begins con­cern­ing The League of Shad­ows. I don't want to say too much more for fear of tread­ing into spoiler territory.
The per­for­mances were incred­i­ble all around, but I'd espe­cially like to com­mend Michael Caine (who damn near made me cry) and The Bat­man him­self, Chris­t­ian Bale; of the three films, I feel this is by far and away his best. I really bought his pain and suf­fer­ing, and the emo­tional tran­si­tions he goes through as Batman's story builds to an epic con­clu­sion. New­com­ers Joseph Gordon-Levitt (as Detec­tive John Blake/mystery char­ac­ter who isn't revealed until the very end of the film) and Mar­ion Cotil­lard (as Miranda) are also impres­sive, but I was really sur­prised by Anne Hath­away as Cat­woman. I've said before that I'm not really a fan of hers, and I feared her scenes in this film would be campy and irrev­er­ent. But DAMN she seems to have been born for this role.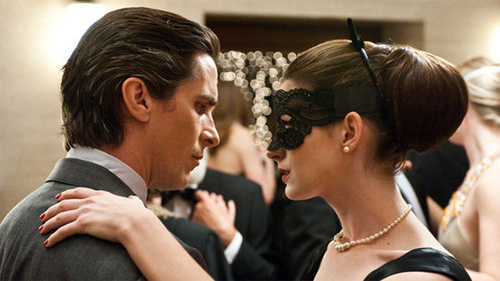 Have I men­tioned how spec­tac­u­lar the action sequences are yet? I caught myself wring­ing my hands in ner­vous excite­ment as   the action unfolded before my eyes, being so caught up in the moment of every­thing, unsure of what would hap­pen next. The visu­als, direc­tion, spe­cial effects, sound, editing—all of it—mindblowing. It truly is an epic cin­e­matic expe­ri­ence that deserves to be seen on the big screen. And when you hear it all set to Hans Zimmer's raw, pow­er­ful score, you will feel it in your bones.
And how about that end­ing, huh!? Huh!? That fuck­ing beau­ti­ful end­ing! (How much do you hate me right now?) For real, though, I am wholly sat­is­fied with Nolan's vision of Bat­man and the con­clu­sion he brings to Batman's story. I left the the­ater in awe. Chris Nolan, you have out­done your­self. Thank you for giv­ing us this amaz­ing tril­ogy. It is a masterpiece.
Run, do not walk, to the the­ater to see The Dark Knight Rises .
ShezCrafti's Rating:
10 out of 10 stars.