The first order of busi­ness for my new iPad , which I just removed the plas­tic from an hour or so ago, was to down­load and install the Atari's Great­est Hits app and all 100 of its games. Retro gam­ing awe­some­ness was only a few progress bars away!
Then I got all bummed when I real­ized none of the 100 games I just down­loaded were Pit­fall. And then it dawned me that Pit­fall is an Activi­sion game, and this col­lec­tion only includes Atari's cat­a­log. Well, poop.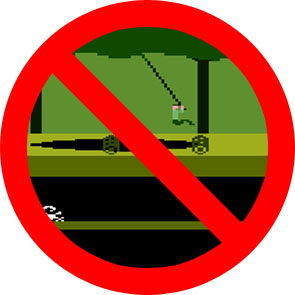 No Pit­fall! Denied!
I will be hon­est, I did not scope out the full list of games before down­load­ing, so I really have no busi­ness com­plain­ing. Actu­ally, I don't mean for this post to sound like I'm com­plain­ing; I'm not. Just a lit­tle dis­ap­pointed is all. I would have pur­chased all of these games regardless.
While I'm on the sub­ject, however…
I'd like to point out that the down­load pack for all 100 Atari arcade games was only sup­posed to cost $3.99 through this week­end, as it says right there on the app store page, but I was charged the full, reg­u­lar price of $9.99.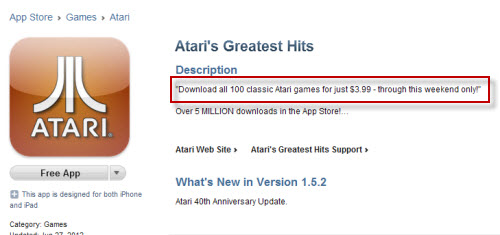 Online bank state­ment line item:

What's up with that, Atari?
Update 9/6/12:  Pit­fall is now on iPad  as part of the new Activi­sion Anthol­ogy app just released last week!