Here's a film I just dis­cov­ered that I'm pro­mot­ing to the top of my must-see watchlist:
It's called  Nerd­core for Life , and it's an indie doc­u­men­tary about the under­ground world of nerd­core hip-hop.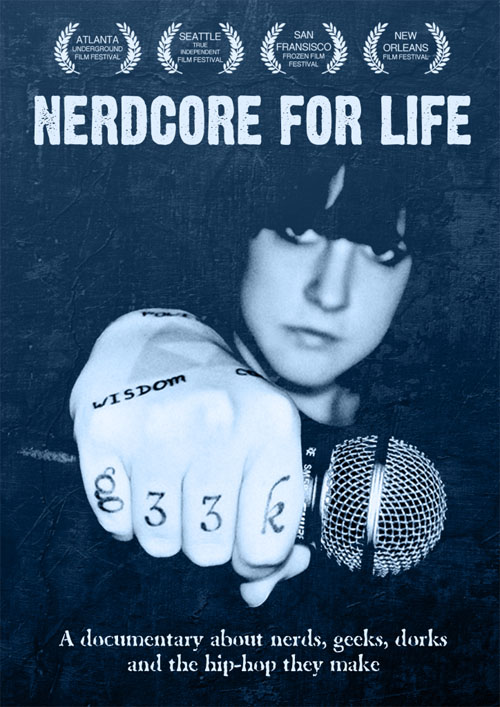 The film pre­miered at the Wis­con­sin film fes­ti­val back in 2008 and has been mak­ing the fes­ti­val rounds, which explains why I've never heard of it…'cause, you know, I don't get out much. And stuff.
But one thing I def­i­nitely do is lis­ten to a lot of nerd­core, the Straight Outta Con­sole album by Heath McNease being one of my most recent favorites. I've been a fan of the genre ever since I was first intro­duced to  Fett's Vette by MC Chris (though I'd have to pick  The Tussin as my favorite song of his, since it sam­ples one of my favorite Nin­tendo game sound­tracks , Gaunt­let ).
Here's a snip­pet of the syn­op­sis from the film's website:
Two of the 21st century's most pow­er­ful social forces; Hip-Hop and geek cul­ture col­lide head-on in the feature-length doc­u­men­tary, Nerd­core For Life. Born on the inter­net, Nerd­core Hip-Hop is rap music made by geeks, for geeks and cov­ers such tra­di­tion­ally nerdy top­ics as comic books, video games, sci-fi, anime and tech­nol­ogy. This new and fas­ci­nat­ing genre is founded on "Do It Your­self" ethics and most Nerd­core rap­pers cre­ate their music on home PCs and dis­sem­i­nate their work for free on the internet.

In all, more than 40 Nerd­core artists and pro­duc­ers from across North Amer­ica make appear­ances in Nerd­core For Life, includ­ing:  MC Plus +, Ytcracker, The Lords of the Rhymes, mc chris, Ultrakly­stron, Doc­tor Pop­u­lar, MC Hawk­ing, Nurse­hella, Opti­mus Rhyme, Beefy, MC Router, Zealous1, Jesse Dan­ger­ously, mc chris, Shael Riley, Baddd Spel­lah, MC Lars, For­mer Fat Boys, High-C, Nomad, The Suck­lord, Monzy, Tanuki, Kro­n­dor Krew, Maja and Schaf­fer The Darklord.
And here's the trailer:
I just ordered a copy of the DVD, since accord­ing to the web­site "there's only a few dozen copies left" and the price is down to just $12.
Do you lis­ten to nerd­core, and if so who's your favorite artist? Any rec­om­men­da­tions? I'm always down for dis­cov­er­ing cool new stuff to lis­ten to.