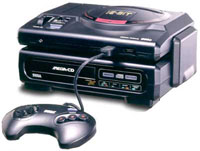 I hap­pen to love the Sega CD dearly and hold a spe­cial place in my heart for it, but holy shit did it have some ter­ri­ble com­mer­cials.  It's a tough job mar­ket­ing game con­soles that have a max­i­mum of 64 col­ors dis­playable simul­ta­ne­ously, but somebody's gotta do it.
Today I'm wax­ing nos­tal­gic about my favorite full motion video periph­eral with this round-up of five awe­somely bad Sega CD commercials:
"
WHOOOOOOOA

…

NOTHING

ELSE

MOVES

LIKE

 

IT

!"

Appar­ently Sega CD's most bad ass fea­ture is…that the disc spins.

This 5-minute long in-store commercial/demo reel for the Sega CD is a typ­i­cal exam­ple of early 90's teen-centric mar­ket­ing: choppy "in your face" edit­ing, sub­lim­i­nal text mes­sages, kids express­ing them­selves in ironic sound bytes, and employs what I like to call the acid wash jeans  fil­ter.  It could eas­ily be mis­taken for an episode of Nickelodeon's Round­house .  I won't blame you if you can't sit through the whole thing.

Hey, was that Lucas at 1:28? ("Sega  CD? SO BAD!")
"Still don't have a Sega
CD

? What are you wait­ing for, Nin­tendo to make one?"

I hate it when angry black men break the fourth wall and fuck up my liv­ing room.
"There is no Nin­tendo 
CD

."

Jesus, didn't Dwayne Wayne have any­thing bet­ter to do?
"Now that's tight."
Promo spot for Sega CD fea­tur­ing  Marky Mark and the Funky Bunch: Make My Video . This is about as 1990s as it gets, kids.
"Just when you thought you'd seen everything…"
Explo­sions! Fire! Sharks! Can­nons! Cau­tion: may be too EXTREME for some view­ers. Only watch this if you can han­dle how EXTREMELY EXTREME it is!
I hope you've all learned some valu­able lessons today.