Back in March, my homies and I in The League  went on a fan­tasy shop­ping spree to Hake's Amer­i­cana and Col­lectibles where I racked up a bill for over $1600 worth of use­less but totally awe­some crap that I'm cer­tain would look fan­tas­tic adorn­ing the walls of Casa de Crafti. It was one of my favorite League assign­ments to date, so I was pretty happy to see we're doing it again this week–not only because it's fun to win­dow shop (hey, I'm great at pick­ing out stuff I can't afford to buy), but also because it requires prac­ti­cally no writ­ing effort on my part. Win/win!
As a  child of the 80s brows­ing an auc­tion full of col­lectibles decades older than myself, it was hard for me to find stuff that really "spoke" to me, as most of it was way before my time (not to men­tion, there was a dis­ap­point­ing lack of Ninja Tur­tles this time around).  But buried under­neath all the Howdie Doo­die, Roy Rogers, World War II mem­o­ra­bilia, and other pop cul­ture stuff I mostly don't care about, I was able to find a few gems that are much more "me." And Star Wars. There's always Star Wars…
Here's what I bought, or would have bought, if I wasn't liv­ing on hot dogs and baked beans right now:

And now for the less excit­ing part where I explain what drew me to these items:
#1 — Set of 4 "Star Wars" Glasses
These Star Wars drink­ing glasses were sold in Burger King restau­rants in 1978, and the set comes with the orig­i­nal card­board dis­play stand. I love the vivid col­ors and clas­sic Star Wars imagery. But you know what I love more? Back when Coke was just 59 cents…
Start­ing Bid Price: $100.00
#2 — 1991 "Bat­man" Statue by Graphitti Designs
It's Bat­man perched on a Gar­goyle. What's not to love?  Designed by Dick Gior­dano and sculpted by Randy Bowen, this gothic Bat­man statue looks badass and cap­tures the essence of my favorite era of Batman.
Start­ing Bid Price: $150.00
#3 — Rare "Space Invaders" Arcade Button
Pro­mot­ing its 1980 arcade release, this mildly sug­ges­tive  Space Invaders but­ton is not only a rare piece of gam­ing his­tory but also a badge of honor for nerds every­where who don't know what it means to score otherwise.
Start­ing Bid Price: $65.00
#4 — Eye­ball in Hand Pez Dispenser
Of course this psy­chadelic Pez dis­penser came from the 60s, because drugs. Back then you hip­pies were prob­a­bly load­ing more than just Pez into these things. I just think it looks cool.
Start­ing Bid Price: $155.55
#5 — 1940s
&

50s Drug-Themed Paper­back Books

Speak­ing of drugs, these old drug nov­els caught my eye. Back then, people's atti­tudes toward rel­a­tively harm­less recre­ational drugs were hilar­i­ous (Reefer Mad­ness any­one?), and not just because they appar­ently have no idea how to spell marijuana.

Start­ing Bid Price: $100.00
#6 — "Mid­night Owl" Boxed Tran­sis­tor Radio
Does this owl look famil­iar? He's a replica from the 1981 fan­tasy film  Clash of the Titans! Cooler still, he's a work­ing tran­sis­tor radio with jew­eled eyes you turn for tun­ing and vol­ume. With its stop-motion weird­ness and crazy Medusa head, That movie used to scare the crap out of me when I was lit­tle. But me and the Owl were cool.
Start­ing Bid Price: $100.00
#7 — Life-size "Super­man the Movie" Standees
Fresh off see­ing Man of Steel in the­aters, I'm nos­tal­gic for the 80s Super­man movies I grew up with. As much as I enjoyed Henry Cavill's per­for­mance, Christo­pher Reeves will always be "my" Super­man. This lot of life-size Super­man standees are 69″ tall and would look great in my future movie the­ater room. Or lay­ing next to me in bed. Can you give me and Super­man some time alone, please?
Start­ing Bid Price: $100.00
#8 — Rare 40″ Tall "Pee Wee Her­man" Doll
YES! One of my life goals is to own a Pee Wee Her­man doll ! Look, I never said I was much of a dreamer. Sadly, this doll isn't the kind that talks, so I guess I'll just have to keep­ing work­ing on my  other life goal of per­fect­ing my Pee Wee Her­man impression.
Start­ing Bid Price: $200.00
#9 — Indi­ana Jones "Raiders of the Lost Ark" Action Figure
With the excep­tion of King­dom of the Crys­tal Skull , I love all of the Indi­ana Jones movies and have fond mem­o­ries of watch­ing them with my Dad. This Indi­ana Jones action fig­ure from Raiders of the Lost Ark  is fully poseable, has "quick draw" whip action, and cap­tures Har­ri­son Ford just the way I like him–young, hand­some, and capa­ble of mak­ing good movies.
Start­ing Bid Price: $121.00
#10 — "Snoopy" Moon Land­ing But­ton from 1969
The excite­ment and won­der of the Moon Land­ing is one of those things I'm jeal­ous older gen­er­a­tions got to expe­ri­ence. In stark con­trast, my "excit­ing" space mem­ory is being sent home from school the day the Chal­lenger exploded, try­ing to under­stand why all the teach­ers were cry­ing. (Hey, I was only 5.) I love this Snoopy moon land­ing but­ton for it's his­toric sig­nif­i­cance and sim­ple innocence.
Start­ing Bid Price: $100.00
#11 — Topps Insult Postcards/Funny Valentines
I really dig the wacky art­work on these Topps Insult Post­cards wax packs from the 1960s. If you sent me one of these for Valentine's Day, I'd have totally gone to first base with you.
Start­ing Bid Price: $100.00
#12 — "The Golden Girls" Cast-Signed Photo
My love for a sit­com about four old ladies liv­ing together started because there was noth­ing else to watch late at night on the shitty TV in my bed­room while grow­ing up, but has since turned gen­uine. With only 1 out of 4 cast mem­bers still alive, it's only a mat­ter of time before this Golden Girls signed photo sky­rock­ets in value. No pres­sure, Betty White.
Start­ing Bid Price: $100.00
#13 — "Robot" Battery-Operated Direc­tional Toy
I must have a thing for these retro Japan­ese robot toys , because I picked out a similar-looking item in the last auc­tion assign­ment. This one is battery-operated and changes direc­tion when­ever he runs into an obstacle.
Start­ing Bid Price: $500.00
#14 — "E.T. The Extrater­res­trial" Metal Lunchbox
Clas­sic Spiel­berg, and one of my favorite movies of all time. This E.T. tin lunch­box fea­tures great, Alvi­nesque art­work and comes with a match­ing Thermos.
Start­ing Bid: $100.00
#15 — "Blinky the One-Eyed Florida Gator" Button
This item is kind of an odd­ball thing to pick, even for me. I just love the sheer kitsch­i­ness of it, and the fact that at some point, back in the 1960s, the peo­ple of Florida wor­shipped a one-eyed alli­ga­tor . Too bad there's just a but­ton. I would watch a whole car­toon of this.
Start­ing Bid Price: $65.00
#16 — "Star Wars" Jew­elry Lot
Finally, some Star Wars stuff for girls! This lot of Star Wars jew­elry includes three rings and stick pins bear­ing the like­nesses of Darth Vader, 3CPO, and R2D2, as well as a set of six pen­dants fea­tur­ing these same char­ac­ters plus Chew­bacca, a Stormtrooper, and an X-wing.
Start­ing Bid Price: $100.00
#17 — Lot of "Black­star" Carded Action Figures
I have this auc­tion to thank for help­ing me remem­ber Black­star , a favorite fan­tasy car­toon from my child­hood I had long for­got­ten. I almost peed my pants in excite­ment when I took a closer look at these action fig­ures and real­ized what they were. A) That car­toon was awe­some. B) I had no idea there was an accom­pa­ny­ing toy­line (but I shouldn't be sur­prised, since this is the 80s we're talk­ing about), and C) I must find a way to re-watch it soon!
Start­ing Bid Price: $250.00
#18 — Early 1900s Risque Corkscrew
Another odd­ball item for me. I like weird, fringe stuff like this that reminds me how some things through­out human his­tory never change–Victorian peo­ple were horny too! I imag­ine this corkscrew would have been quite the conversation-starter back then, what with the place­ment of that screw…well, do you really need me to con­nect the dots here?
Start­ing Bid Price: $100.00
#19 — Vin­cent Price Hor­ror Record Album
I would lis­ten to Vin­cent Price read from a phone book I love the man's voice so much, but one of the more enter­tain­ing things he's known for are his nar­ra­tions of hor­ror sto­ries. This dou­ble LP set fea­tures The Story of Witch­craft, Demonology and The Occult.
Start­ing Bid Price: $100
#20 — Franken Berry Cereal Box Flat
Franken Berry isn't my favorite of the Gen­eral Mills mon­ster cereals–an honor that belongs to the elu­sive Yummy Mummy–but he is is the only mon­ster who can lay claim to turn­ing lit­tle kids' poop pink, so that makes him #2 in my book (pun fully intended). This Franken Berry cereal flat is notable for its free Mon­ster Action Ring offer.
Start­ing Bid Price: $200.00
What's the damage?
I only had start­ing bid prices to go on, so the actual total would prob­a­bly be many hun­dreds if not thou­sands higher, but here's how I did: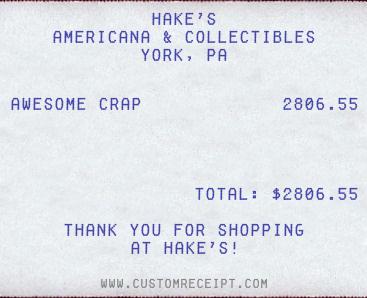 I'm kind of proud I spent even more money than last time !
Let's go shopping!
Won­der­ing what this is all about? This week's assign­ment from The League of Extra­or­di­nary Blog­gers was to go on another fan­tasy shop­ping spree at Hake's Amer­i­cana and Col­lectibles . Let's take a look at what every­one bought!