I really strug­gled with this week's assign­ment from The League, which was to take a trip into any fic­tional place, time or world in pop culturedom.
First, let's run through the list of ideas that didn't make the cut (and why):
The Ninja Tur­tles' Sewer Lair –specif­i­cally the one from the 1980's car­toon. Too obvi­ous and expected from me.
Hog­warts. Because Q the Adult already beat me to it .
Juras­sic Park.  Because Cool and Col­lected already beat me to it. Ugh.
Aze­roth.  As much as I'd love to stand atop Mount Hyjal, get drunk in Booty Bay or swim the depths of Vashj'ir, I stopped play­ing WoW more than a year ago and I feel too out-of-touch to write about it now.
The Con­ners' House at Hal­loween. I sort of already cov­ered that here .
Miss Cackle's Acad­emy for Witches. Because only like three of you would have the faintest idea

WTF

I'm talk­ing about .
Even elim­i­nat­ing the above places, I still had a hard time nar­row­ing down the rest to just one. And it's now after 8:00 PM on Sun­day night, the last day of this week's assign­ment. Des­per­ate times call for des­per­ate mea­sures. They also some­times call for a notepad, scis­sors, some Scotch tape, and a Sharpie.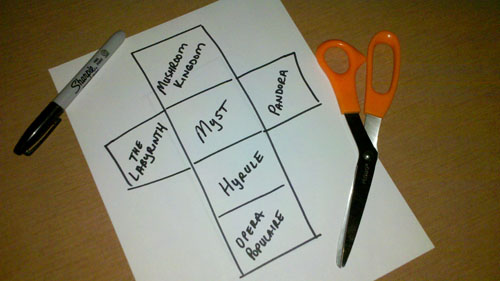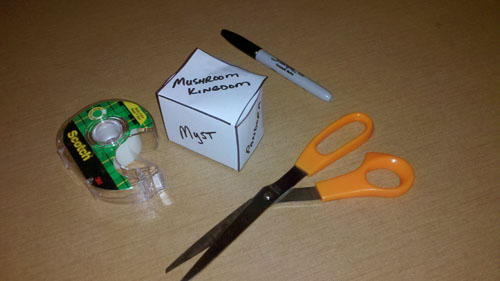 Looks legit, right? Now it's time to roll the shoddily-made die and let fate or a mildly strong gust of wind from my open win­dow decide my fic­tional pop cul­ture destination:
Well, shit. I was kinda hop­ing for The Labyrinth to fit in with the Hal­loween Count­down theme I've got going here. But oh well. That's what I get for let­ting shitty paper dice do all my decision-making. Opera Pop­u­laire it is!
The Opera Pop­u­laire, in case you're won­der­ing what that is, is the fic­tional Paris opera house where Andrew Lloyd Weber's  The Phan­tom of the Opera takes place. (Oh, hey, I guess now might be a good time to men­tion I'm really into The Phan­tom of the Opera –the orig­i­nal novel by Gas­ton Ler­oux, its many film adap­ta­tions, the made-for-TV movie star­ring Charles Dance, spin-offs, the ALW musi­cal, the sequel –I love it all.) It is based on the real Paris Opera House, Palais Gar­nier , which is still in oper­a­tion and def­i­nitely a place that's on my travel bucket list. I'm fas­ci­nated by its his­tory, its con­struc­tion and the fact it was built over a sub­ter­ranean lake which Ler­oux incor­po­rated into his novel to serve as the set­ting for the Phantom's lair.
In ALW's ver­sion, the Phan­tom story takes place in 1881. The Paris Opera was lit by gas lamps and can­dle­light, an elab­o­rate sys­tem of ropes and pul­leys manned by dozens of work­ers con­trolled the back­drops, nar­row cat­walks criss­crossed each other high above the stage, opera guests arrived by horse and car­riage wear­ing their finest bus­tled dresses and waist­coats. The Opera Pop­u­laire housed hun­dreds of employ­ees, from the lowly cho­rus girls to the stage man­agers, all liv­ing in rel­a­tive igno­rance of The Phan­tom who dwelt in the labyrinthine tun­nels below. It's a set­ting that makes for a fas­ci­nat­ing story, one in which the Paris Opera House feels alive, bustling with activ­ity, and seem prac­ti­cally a char­ac­ter itself.
The over­ture from Joel Schumacher's 2004 film ver­sion of The Phan­tom of the Opera  gives us the best glimpse into this world:
And in case you're one of those peo­ple who don't bother to watch videos, here're a cou­ple of screen­shots that really show off the place: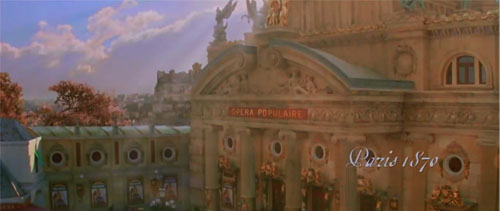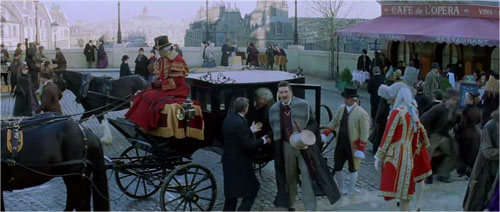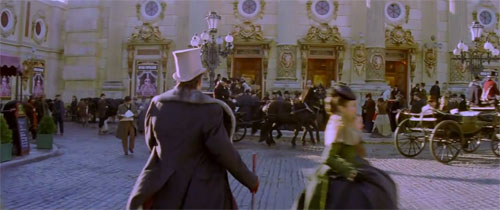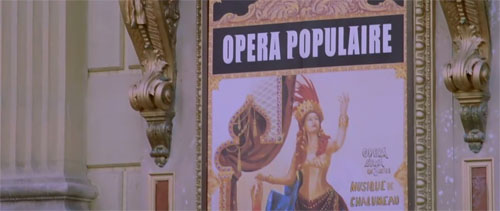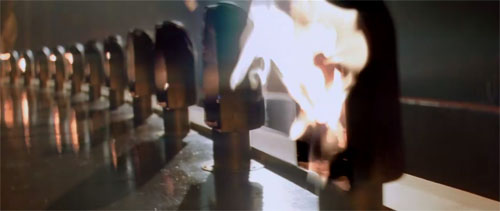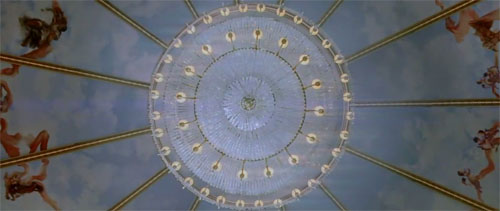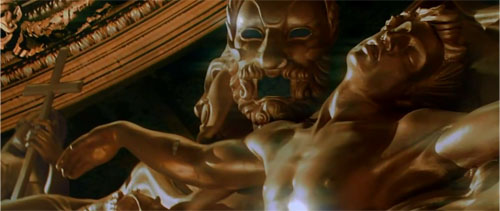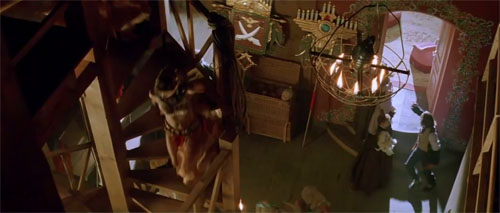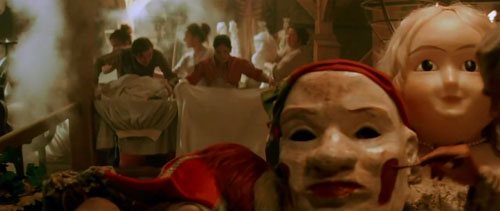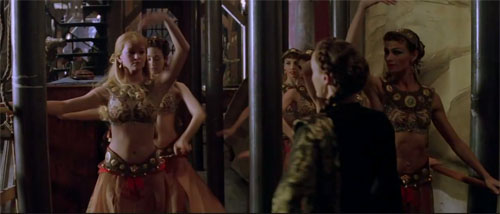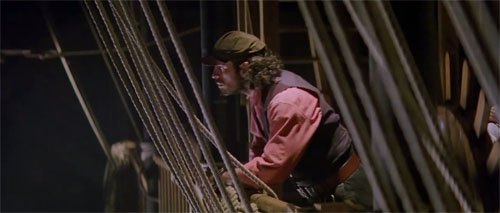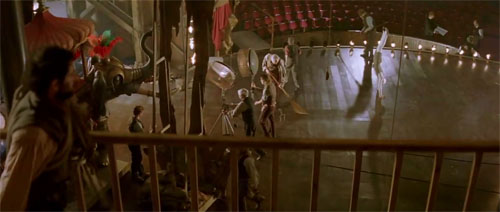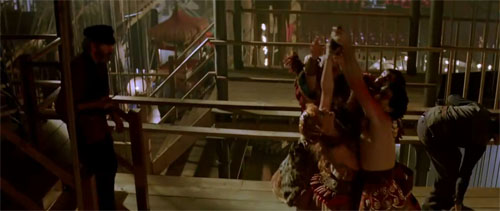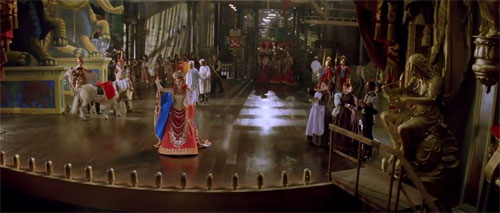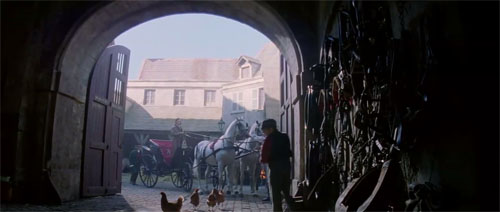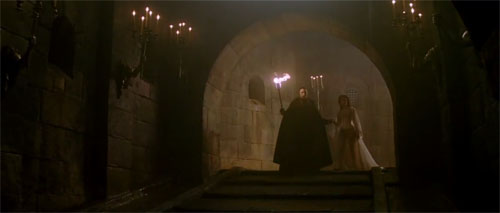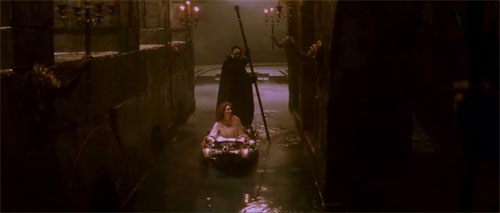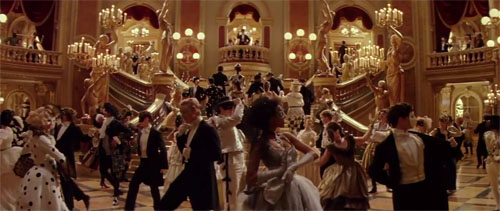 Yes, Mom, I remem­bered to pack clean underwear.
Won­der­ing what this is all about? This week The League of Extra­or­di­nary Blog­gers was tasked with tak­ing a trip to any­where in pop culturedom–a fic­tional town, time, or world. Here's where (or in some cases, when ) some of my fel­low Lea­guers went: