This week The League wants to know what our guilty plea­sures are. Well friends (that is, if you still want to be friends after this) the time has come for me to reveal my secret shame: my deep and uncon­di­tional love for Ace of Base.  I've been sit­ting on this gem for a long time, car­ry­ing the torch alone, wait­ing for just the right moment to pub­licly embar­rass myself.
But today you could say I SAW THE SIGN. (Sorry. Had to.)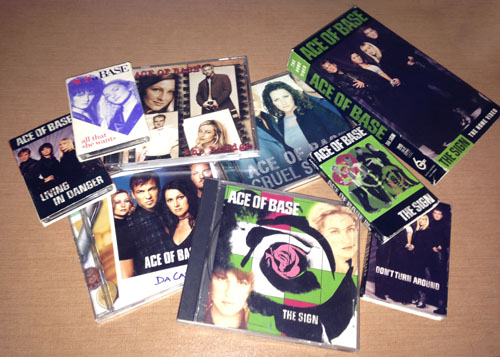 No, you haven't time trav­eled back to 1994. You're look­ing at a very recent pic­ture of Ace of Base CDs and cass­in­gles that I still own. Present tense, baby. Though not quite as strong as it used to be, this photo is evi­dence of my undy­ing love for a band that, by and large, most peo­ple have for­got­ten, as well as evi­dence that I have ter­ri­ble taste in music. It is also evi­dence that "pop reg­gae" was once a thing.
Thou­sands of years from now when gen­er­a­tions far into the future dig up the fes­ter­ing remains of our once great pop cul­ture empire, they will unearth a tat­tered copy of  The Sign, stare deep into the mys­te­ri­ous pink cen­ter of its vagina-like album art, and pon­der its meaning.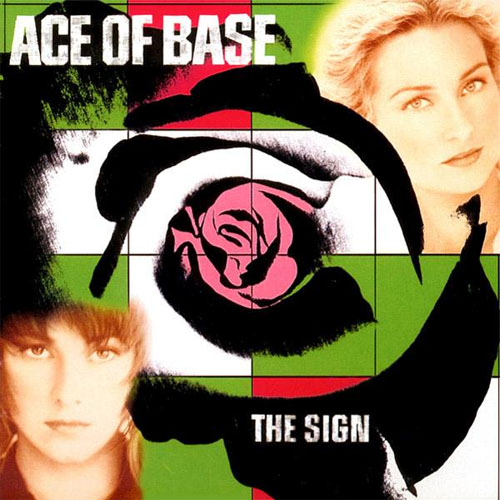 The major­ity of you read­ing this prob­a­bly don't real­ize that Ace of Base didn't stop mak­ing albums after The Sign– which, if you remem­ber, was damn near inescapable with its string of world­wide hit sin­gles (includ­ing the infec­tious title song) bom­bard­ing the radio and cer­ti­fied nine-time plat­inum status–but they did.
In fact, the band's sec­ond album  The Bridge was released in 1995 and was, in many respects, a far supe­rior album. Says me. You might remem­ber its ear­worm of a hit sin­gle, "Beau­ti­ful Life," but prob­a­bly not much else unless you were A) a ded­i­cated fan; B) it was one of your "Just Add Two More CDs to Get Free Ship­ping!" selec­tions from Colum­bia House; or C) your name is William Bruce West . I recently learned on Twit­ter that Will is just as much of an Ace of Base fan as I am, call­ing into ques­tion all my previously-held beliefs about black guys. He even knows about "Ravine." Every rec­i­p­ro­cated tweet was like a secret hand­shake wel­com­ing me into some loser-y club for which I thought I was the only mem­ber. How­ever, on the issue of Linn hav­ing a bet­ter voice than Jenny, well, Will and I will just have to agree to disagree.
This is how much I love Ace of Base: even though I own all of their albums on CD and dig­i­tally, I refuse to throw away this cas­sette tape.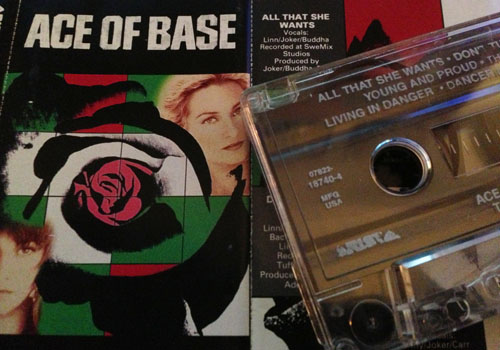 After  The Sign , The Swedish pop act went on to record sev­eral more albums with com­pletely dif­fer­ent names out­side the United States where they were ignored–1997's  Cruel Sum­mer  which cov­ered the famous Bana­narama song, and the long-awaited  Da Capo  in 2003–before ulti­mately break­ing up in 2009. A year later the band re-formed with two dif­fer­ent girls (and yes I own that album too).  But like Becky's replace­ment on  Roseanne , the new girls are pret­tier but it's just not the same!
As one of the first pop groups I can remem­ber being really into (some annoyed fam­ily mem­bers might say to the point of obses­sion, given they had to endure my end­less loop­ing of "Don't Turn Around"), Ace of Base gave me my first harsh les­son about America's rela­tion­ship with pop groups. Namely, how we devour them to the bone, then quickly shit 'em out and flush. Of course, it didn't help that Ace of Base's upbeat, infec­tious pop infused with love and pos­i­tiv­ity ran counter to the flan­nel shirt depres­sion of grunge and alterna-rock that was so pop­u­lar dur­ing their brief period of star­dom, when they per­fected awe­some poses like this one: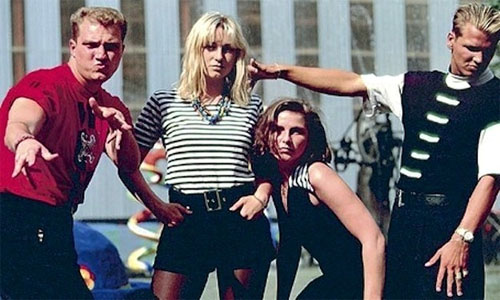 Not to men­tion their endear­ingly cheesy lyrics, made all the more so given their less than stel­lar com­mand of the Eng­lish lan­guage. Sweet, naive, thirteen-year-old me was  cer­tain that a big Ace of Base come­back was going to hap­pen some­day, after every­one real­ized their genius. Only they never did. By the time I got to high school I learned to keep my AOB love on the down low, out­side of a few trusted friends who were privy to all my embar­rass­ing inter­ests, like Sailor Moon. Now that I think about it, this could have eas­ily been a post about Sailor Moon.
But hey! At least it's not Justin Bieber, AMIRITE? In fact you, you can just copy and paste that last sen­tence  and use it for every­thing you're ashamed of.
Before I go, this post would not be com­plete with­out one of Ace of Base's clas­sic, uncom­fort­able music videos that make no sense. Play me out, you angelic songstresses of Swedish pop!
Expe­ri­ence some of these other pearls.
Won­der­ing what this is all about? This week's assign­ment from The League of Extra­or­di­nary Blog­gers was to share one of our guilty plea­sures. I don't know what can pos­si­bly be guiltier than Ace of Base, but let's find out. Together!
I'll update with more guilty plea­sures as other Lea­guers com­plete the assignment.
Thank you for hold­ing. Your League post is very impor­tant to me. It will be listed here in the order in which it was received. Beep!