To piggyback off my last post in which I discovered a Chicago-based band–very possibly one of my new favorites–called Greenskeepers, I went digging further into their discography because any band with 80s musical sensibilities that puts out a song inspired by Silence of the Lambs is GUARANTEED to get my attention. I just had a feeling I'd find something even more awesome if I looked into their back catalog, and low and behold I was right.
Scanning album covers, this is the one I knew I had to listen to right away: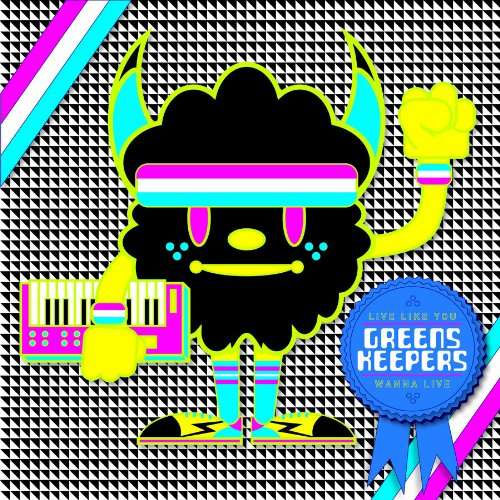 I'm still trying to figure out what this little black puffball with horns-looking guy is supposed to be, but one thing's for sure: he's a hell of a dresser. Look at all that STYLE! I mean, he has lightning bolts on his fucking shoes. See, back in the 80s it was cool–necessary, even–to dress like you were ready to work out even if you had zero intention of ever doing so. I was certainly guilty of following the trend at one point, or so my collection of barely-used Get In Shape Girl! toys leads me to believe. I'm also going to pretend that's a pink Casio SK-1 keyboard he's toting around because I used to have one just like it. And that blue ribbon bearing the band's name? That's a well-deserved award for such a rad album cover.
But what does it sound like?
Like a cross between Ween, Talking Heads, and…something else I can't quite put my Ring Pop-wearing finger on. There's lots of bass-y hooks, synth-y jabs of melody, computerish bleeps & bloops and even some off-the-wall elements like slide flutes. The male vocals are simple and a little blah, but the beats are so damn catchy it doesn't matter. I think my favorite song is the instrumental track "Pulstar," followed by "Creatures of the Night." The title track is pretty great, too. I have no doubt I'll be listening to this album many times over, so once again my attraction to cool-looking album art has led to finding great new music. I think I'm starting to develop a real knack for this.
If you have Spotify, you can listen along with me:
ShezCrafti's Rating:
8 out of 10 stars.










What is Album Art Porn?
A recur­ring fea­ture in which I ran­domly pick an album I've never heard of to lis­ten to and review based solely on its cover art. It could turn out to be the most amaz­ing thing I've ever heard…or com­pletely suck.