As I was say­ing in my last post, yes­ter­day I was dragged out into the Black Fri­day mad­ness by my sis­ter. Shop­ping def­i­nitely qual­i­fies as one of my least favorite activ­i­ties, let alone shop­ping on one of the busiest days of the year when there's a real pos­si­bil­ity of being tram­pled to death. It's also dan­ger­ous for me to go shop­ping with­out a pre-defined plan or any sense of bud­get because what usu­ally hap­pens is I get bored and start actively look­ing for crap to waste money on, almost as if I'm try­ing to jus­tify my being there. I know, it's unhealthy.
So while trapped at Tar­get, as my sis­ter trolled the shoe and cloth­ing aisles, I went off in search of TMNT stuff . But along the way I passed by a few weird/cool/stupid things that took a lot of will power not to buy.  Here are three Black Fri­day impulse buys I'm proud of myself for resisting:
#1 — Awk­ward Fam­ily Pho­tos: The Board Game (Wtf?)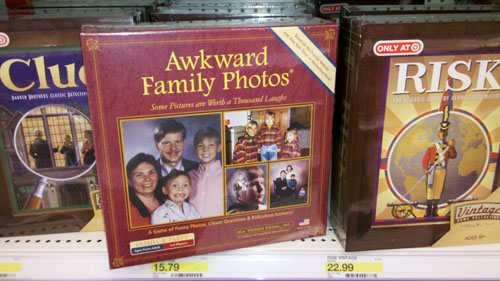 What the hell? The  Awk­ward Fam­ily Pho­tos  blog has a board game out? When did this hap­pen?? I guess nowa­days any­thing can be a board game, and inter­net pop cul­ture is ripe for the pick­ing. I'm not even really sure what the object of this game is sup­posed to be, but my guess is some­thing that involves wear­ing hideous match­ing out­fits and yelling at your dad to stop drink­ing so much.  What's next? A board game ver­sion of  We Have Lasers? *
*Actu­ally that'd be kind of awesome.
#2 — Saved by the T-shirt.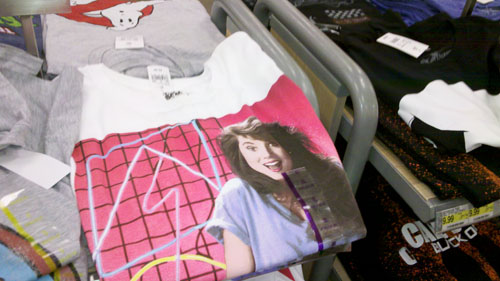 As much as I love Saved by the Bell and the idea of proudly dis­play­ing said love for Saved by the Bell on a t-shirt, I decided  against wear­ing Kelly Kapowski.  I mean, that'd be kind of gay, right? Where the hell is the Zack Mor­ris t-shirt?
#3 — Darth Paper Strikes Back
&

other cool books I had no idea existed.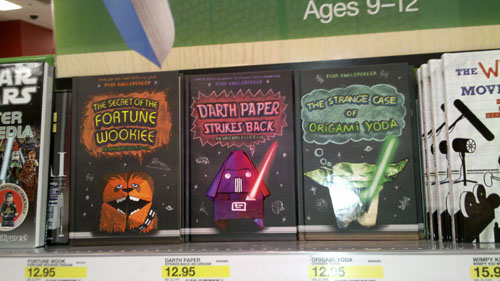 These caught my eye for obvi­ous rea­sons, but I had never heard of them before.  I love the paper­crafty play-on-words and the design of the Star Wars char­ac­ters which kind of pro­trude from the front cover. I know they're children's books, but has any­one out there actu­ally read them? Would you rec­om­mend them? (For some­one who's 31 going on 12?)
Jesus I need to get out more.