Spoiler Alert
Warn­ing: if you're not com­pletely caught up with Break­ing Bad , you read this post at your own risk. Spoil­ers are guaranteed.
Tonight's episode of Break­ing Bad left with me with a very uncom­fort­able feeling–but uncom­fort­able in a good way because it means the show is liv­ing up to its name. Every episode is a mas­ter­stroke of drama and ten­sion that pushes Wal­ter White one step closer to the edge; a pre­cise, carefully-balanced formula,just like the one he uses to cook meth, that keeps me addicted. But I think tonight's episode was a stand­out, and pos­si­bly the defin­i­tive point on the time­line of Walter's trans­for­ma­tion into the antihero.
Who is Wal­ter White now? Do you rec­og­nize him any­more? For the first time in the series I feel as if I don't. We've known from the begin­ning that Break­ing Bad is a show about a man who goes from good to bad. We've been wit­ness­ing his dis­turb­ing meta­mor­pho­sis since the first episode, lit­tle by lit­tle, as he unrav­els. But up until tonight, I was still kind of root­ing for the guy. I can't say that anymore.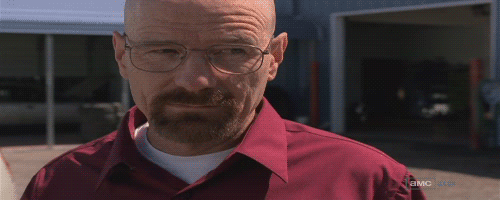 I think Wal­ter has almost com­pletely lost his shit by now. There were a cou­ple of moments tonight that really brought this home: his happy whistling after Jesse's break­down over the mur­dered child, his not-so-subtle power play with Skyler at din­ner (was that not the most awk­ward din­ner scene EVER?), and most of all, his insane-sounding tan­gents about wealth and power that clearly indi­cate he's will­ing to sac­ri­fice every­thing for it.
As Jesse so aptly points out, when Wal­ter got started in the meth game, his goal was $737,000. Tonight we saw Wal­ter turn his back on $5 mil­lion. He claims his busi­ness is the only thing he has left, despite the two chil­dren he's been neglect­ing for sev­eral episodes now. Even more chill­ing is Walter's skill­ful manip­u­la­tion of Jesse's emo­tions and the bla­tant dis­re­gard for his well being–as long as Wal­ter con­tin­ues to ben­e­fit from the rela­tion­ship, it seems he'll con­tinue to pull Jesse's strings.
There may not have been much action in tonight's episode, but I think it will go down as one of the most impor­tant in the series for Walter's char­ac­ter devel­op­ment. He seems com­pletely detached from his for­mer life at this point, spi­ral­ing ever down­ward into…well, what, exactly? How much darker can the show get? To what extremes will Wal­ter go for his "empire?" I have a sink­ing feel­ing we haven't seen any­thing yet.
By the time Break­ing Bad is over, I wouldn't be sur­prised if we see Wal­ter kill a mem­ber of his own fam­ily. Or worse.