Yesterday's news of a young man found dead at an inter­net cafe in Tai­wan is just the lat­est case of an increas­ingly com­mon occur­rence: drop­ping dead while play­ing video games.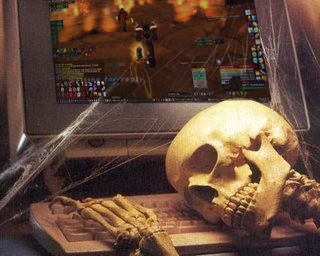 With the rise in pop­u­lar­ity of "never end­ing" games like World of War­craft , Star Wars: The Old Repub­lic , and other online games that design their entire busi­ness mod­els around keep­ing play­ers hooked, video game addic­tion is an issue that's get­ting a lot of atten­tion lately .
But are the games them­selves to blame, or does it come down to indi­vid­ual gamers who just don't know how to take care of them­selves?  While many of us are able to play a lot of games and still lead (rel­a­tively) nor­mal lives, it seems we've all known at least one other gamer who strug­gles to main­tain a healthy gaming/life balance.
In my for­mer WoW life, I never knew any­one who died as a direct result of play­ing the game—but I did wit­ness first­hand how play­ers' addic­tions led to other ter­ri­ble things hap­pen­ing in their lives.  I knew peo­ple who lost their jobs, neglected their chil­dren, dropped out of col­lege, and got divorced.  And though they'd deny the root cause of these prob­lems, it wasn't hard for the rest of us to under­stand the con­se­quences that go along with spend­ing 15+ hours of every day logged in to a vir­tual environment.
Below are six woe­ful tales of peo­ple who died play­ing video games:
Gamer's Death at Inter­net Cafe Goes Unnoticed
Just yes­ter­day, Chen Rong-yu, a 23 year old Tai­wanese man,  died while play­ing League of Leg­ends , a free online MMORPG, at an inter­net cafe in New Taipei city this past Tues­day.  His body was found slumped over in a chair with his hands stretched out towards the key­board and mouse.  The most hor­ri­fy­ing part is that none of the cafe's other patrons noticed until NINE HOURS LATER. The ongo­ing inves­ti­ga­tion into his death reveals the gamer may have suf­fered from car­diac arrest trig­gered by a com­bi­na­tion of tired­ness, lack of move­ment, and cold temperatures.
Xbox Addict Dies from Blood Clot
Bud­ding com­puter pro­gram­mer Chris Stan­i­forth, who was only 20 years old, died from play­ing too much  Halo .   His 12-hour marathon Xbox ses­sions caused a fatal pul­monary embolism, a type of blood clot that can occur when some­one sits in the same posi­tion for sev­eral hours.  Chris had just been accepted to Leices­ter Uni­ver­sity to study game design when he col­lapsed out­side a UK Job­cen­tre after com­plain­ing of a low heart rate. He had no pre­vi­ous med­ical conditions.
Online Gamer Dies After 3-Day Session
An uniden­ti­fied 30 year old man in Bei­jing died after spend­ing three days immersed in an online game  at a local inter­net cafe.  He lost con­scious­ness and was rushed to a hos­pi­tal but could not be revived.  Accord­ing to reports, the man had spent more than 10,000 yuan (approx­i­mately $1,500) on gam­ing in the months before his death.
Man Loses Job, Dies After Gam­ing for 50 Hours
A 28 year old man from South Korea  died while play­ing Star­craft for 50 hours with only few short breaks. The cause of death was pre­sumed to be heart fail­ure stem­ming from exhaus­tion.  The man, who had eaten very lit­tle dur­ing his marathon gam­ing ses­sion, only stopped play­ing to go to the toi­let a few times and for brief peri­ods of sleep.  He had recently been fired from his job because he kept miss­ing work to play com­puter games.
WoW Gamer Kicked from Guild, Too Dead to Log In
Jer­ald Span­gen­berg, an avid World of War­craft player, died while raid­ing with his WoW guild after get­ting into a heated argu­ment dur­ing the raid. His cause of death was an abdom­i­nal aneurysm, pre­sum­ably brought about by long peri­ods of sit­ting at the com­puter com­bined with the stress of the argu­ment. After Jer­ald sud­denly went silent dur­ing the raid, he was auto-logged out of the game after 10 min­utes of inac­tiv­ity and did not log in again.  His guildies assumed he was  being child­ish and had deserted them, so they kicked him out of the guild and kept on raid­ing.  It wasn't until three weeks later that they learned what hap­pened from Jerald's daugh­ter (and felt hor­ri­ble about it).
Young Girl Dies After Play­ing WoW for Sev­eral Days Straight
A young Chi­nese girl known by her nick­name "Snowly" died after play­ing World of War­craft for sev­eral days straight dur­ing a national hol­i­day.  Snowly was a key mem­ber of her WoW guild, who said the girl had been prepar­ing for a very dif­fi­cult raid and had had very lit­tle rest in the days prior.  An in-game funeral was held for Snowly in the week after her death, but sadly the event was over­shad­owed by the death of another pop­u­lar WoW player dur­ing the same week.
Yes kids, it is pos­si­ble to lit­er­ally game your­self to death.  May these sto­ries serve as a warn­ing to you, fel­low gamers, to put down the con­troller every once in a while to eat and sleep.  And for shit's sake, get some exercise!