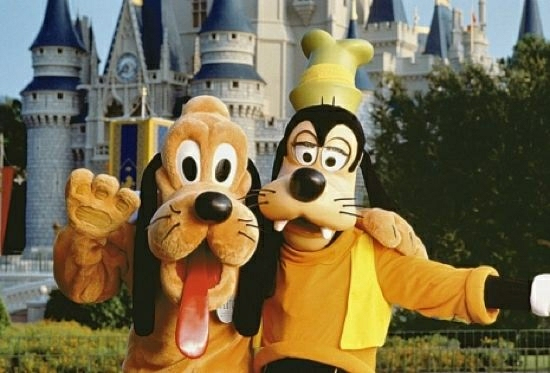 The evo­lu­tion­ary incon­sis­ten­cies between Goofy and Pluto are  well doc­u­mented . The Cliff's Notes ver­sion of the debate goes some­thing like this: They're both dogs, both Dis­ney char­ac­ters, and yet only one of them talks, wears clothes, dri­ves a car, and per­forms other basic human-like func­tions like walk­ing on two legs while the other does not. Why is that?
It's a conun­drum that was immor­tal­ized by the movie  Stand By Me  and has been puz­zling Dis­ney fans since at least 1986. While there has never been a sat­is­fac­tory answer (and prob­a­bly never will be), the great Goofy/Pluto debate is just the jump­ing off point for a much broader topic of discussion:
In worlds full of talk­ing ani­mals, why are some of them just pets?
Talk­ing Ani­mals vs. Pets
Car­toons and kid's movies are rife with exam­ples of the "talk­ing ani­mals" vs. "just a pet" phe­nom­e­non in which ani­mal char­ac­ters with human-like coun­ter­parts seem to have been left behind by evo­lu­tion. It's the equiv­a­lent of a human being keep­ing a lesser human being as a pet.
But what's the ratio­nale for it? Did these char­ac­ters fall out of the phy­lo­ge­netic tree? Is it meant to be some sort of state­ment on the human supe­ri­or­ity com­plex? Or is it just a lack of imag­i­na­tion on the part of the creators?
This is the kind of weird crap I lay awake at night think­ing about. To illus­trate my con­fu­sion, I thought it would be a fun (if use­less) exer­cise to put together a list of examples.
Bugs
&

Daffy vs. Sylvester

&

Tweety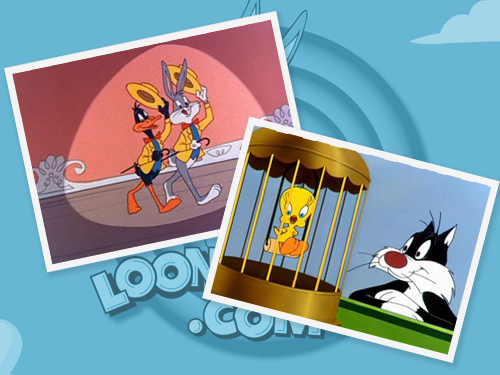 In the world of  Looney Tunes , you have your intel­li­gent, free-thinking, almost-human ani­mal char­ac­ters like Bugs Bunny and Daffy Duck along­side ani­mals who are clearly kept as pets like Sylvester and Tweety Bird. Do you think Sylvester ever looks at his famous singing, danc­ing non-pet ani­mal acquain­tances and won­ders why his own exis­tence sucks?
Rowlf vs. Other Mup­pet Dogs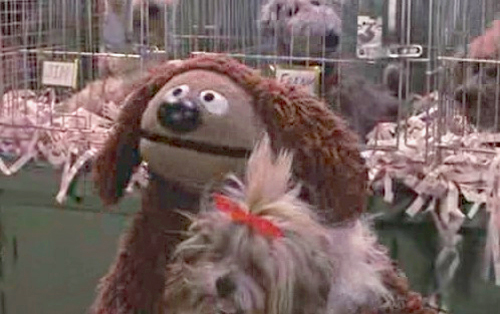 There are lots of dogs in the Mup­pet uni­verse, but Rowlf is the most pop­u­lar. And unlike most of the other Mup­pet dogs, he can talk, hold down a job, and jam on the piano like it's nobody's busi­ness. But in the same uni­verse you have dogs like Barkley , who is appar­ently only good for accom­pa­ny­ing dumb kids on their way to  Sesame Street .
The most glar­ing exam­ple of these dis­par­i­ties can be found in The Mup­pets Take Man­hat­tan , where Rowlf takes a job man­ag­ing a ken­nel full of other dogs, both of the real and Mup­pet variety.
Sir Didy­mus vs. Ambrosius/Merlin
Here's another great exam­ple from Muppetdom: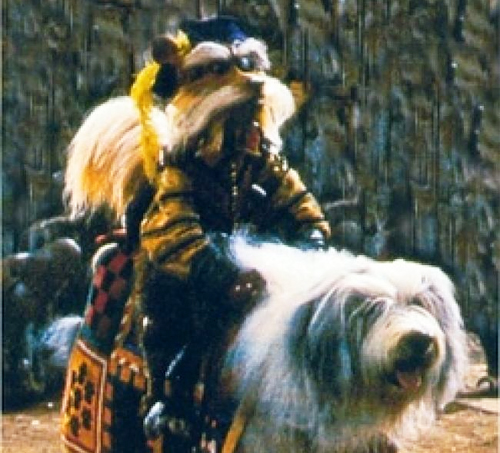 In the movie Labyrinth , Sir Didy­mus is a dog (a fox-terrier, to be exact) char­ac­ter who believes he's a brave and chival­rous knight. He rides around on his "trusty steed" which is an actual dog named Ambro­sius who is, well, just a dog. As if this weren't ridicu­lous enough, Ambro­sius is the Labyrinth ver­sion of Mer­lin, the fam­ily dog we see run­ning home with Sarah in the beginning.
Now bear with me if you're not famil­iar with Labyrinth , because I'm about to go off on a bit of a tan­gent. At the begin­ning of the movie, we get a glimpse of Sarah's bed­room, which con­tains all man­ner books, fig­urines and other knick­nacks that later come to life in some fash­ion after she enters the Labyrinth. For exam­ple, there's a dwarf fig­urine that's clearly rep­re­sen­ta­tive of Hog­gle  and a snow globe that looks an awful lot like the gob­lin mas­quer­ade ball . So if you're keep­ing up, we've got a bunch of inan­i­mate objects that come to life inside the Labyrinth along­side a real dog that…just stays a dog– except with the added humil­i­a­tion of hav­ing another dog ride him.
Garfield vs. Odie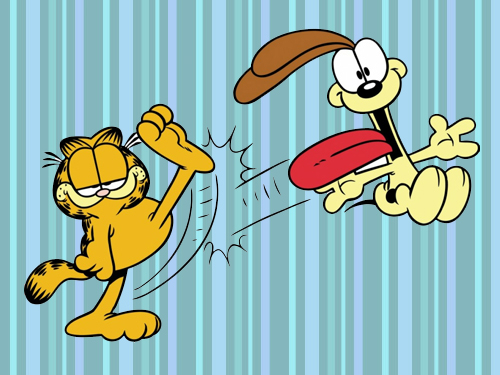 Garfield and Odie are an espe­cially inter­est­ing case study. Both are domes­tic pets liv­ing under the same roof, but Garfield is an intel­li­gent, wise­crack­ing, con­nois­seur of lasagna while Odie is, in most sce­nar­ios, just a stu­pid, slob­ber­ing dog.
Sponge­bob vs. Gary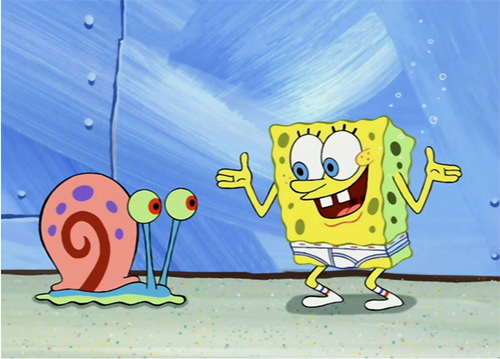 Sponge­bob Squarepants is per­haps the ulti­mate slap in the face to ani­mal char­ac­ters who've been rel­e­gated to just being pets. The world of Bikini Bot­tom is filled with anthro­po­mor­phic sea crea­tures (with the excep­tion of one very inno­v­a­tive squir­rel), but Sponge­bob him­self is an inan­i­mate object. So why does he have a pet snail named Gary, who, also inex­plic­a­bly,  meows like a cat? That's right, in this show a sponge exhibits more human char­ac­ter­is­tics than a snail.
Final Thoughts
Next time some­one brings up the tired Goofy vs. Pluto debate at a party, you can whip out one of these much cooler exam­ples and pre­tend like you're semi-knowledgeable about a sub­ject that ulti­mately nobody cares about.
Now that I've spent way too much time think­ing about stu­pid crap, I'm off to go home to my very un-anthropomorphic cat.