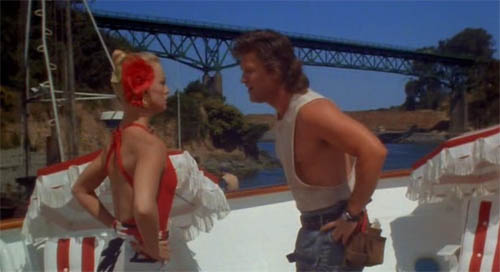 Kurt Rus­sell: great actor or the great­est actor? That's the ques­tion posed to The League of Extra­or­di­nary Blog­gers this week. Well, okay, to be hon­est I just made up that ques­tion. But we really are sup­posed to write about Kurt Rus­sell , even if you're not a big Kurt Rus­sell fan or think he sucks–in which case you would, of course, be wrong.
Kurt Rus­sell is one of those ver­sa­tile actors who can play prac­ti­cally any role. The guy can do (and has done) every­thing from badass action movies ( Tomb­stone, Big Trou­ble in Lit­tle China ) to com­edy ( Cap­tain Ron , Tango & Cash ). Like Golden Cor­ral, he's got some­thing for every­one. But I won't drone on about how awe­some (even if awe­somely bad ) Kurt Russell's movies are because I'm unfash­ion­ably late to this week's League topic due to being on vaca­tion in Myr­tle Beach and every­one else has already beaten me to it.
So, in keep­ing with my run­ning theme of beach and ocean-themed posts this week, what I'd like to do instead is write about one of my per­sonal favorite Kurt Rus­sell movies, Over­board .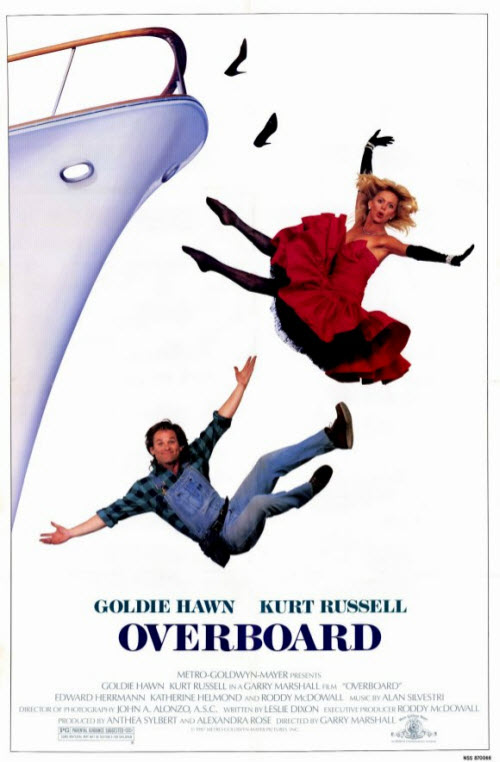 For those who have never seen it, it's easy to dis­miss Over­board as cheesy roman­tic com­edy, which it is, com­plete with a Randy New­man song. But look a lit­tle closer and you'll find a movie that's hilar­i­ous on so many levels–and not just because it's a reminder of every­thing embar­rass­ing from the '80s like frizzy perms, Pee-wee Her­man, and brick-sized cord­less phones. It's got an absurd plot, a north­west small-town set­ting quirkier than Twin Peaks, and ridicu­lous but lov­able char­ac­ters who deliver extremely quote-able lines like:
"Sorry, Annie. I got horny."
"Stop star­ing at me. Eat your checkers."
"Inga, you don't shove the food down Shiitake's throat, you place it on her tongue. Don't they have dogs in Sweden?"
"We say 'Foca!' 'Foca' means 'seal' in Portuguese."
"Tofuti… Tofuti where are you when I need you? Tofuti Klein-dein-dein-dein-dein…"
Or am I the only one who quotes this movie inces­santly? Okay, I'm get­ting ahead of myself here…
In Over­board , Kurt Rus­sell stars as Dean Prof­fitt, a lowly, down-on-his-luck car­pen­ter who's also the sin­gle dad of four boys. One day a lux­ury yacht makes an emer­gency repair stop in the small, red­neck town of Elk Cove, Ore­gon, and it's mega-rich, super­bitch owner Joanna Stay­ton (Goldie Hawn) hires Dean to remodel her closet on a whim. When he doesn't do the job to her sat­is­fac­tion, she stiffs him on the pay­ment and pushes him over­board, along with all his tools.
Later that night, as the yacht leaves the har­bor, Joanna tries to retrieve her lost wed­ding ring from the deck but acci­den­tally falls over­board. She washes up on the Elk Cove garbage scow with a seri­ous case of amnesia–and since this is the most excit­ing thing hap­pen­ing in Elk Cove, it makes the local news. Dean Prof­fitt doesn't waste any time tak­ing advan­tage of the sit­u­a­tion. In an attempt to get even with Joanna, he shows up at the local hos­pi­tal to claim her as his wife so he can bring her home and make her work off what she owes him. (Like I said, it's ridiculous.*)
*Ridicu­lously  awe­some.
And because this is the '80s and any­thing goes in these movies, they obvi­ously end up falling in love. Even after Kurt Rus­sell deliv­ers an epic insult right to Goldie Hawn's face:
Kurt Russell's Guide to Bag­ging Mega-Rich Women with Amnesia
Step 1: First, get a good, hard look at her ass while help­ing your­self to all the fancy food in her refrig­er­a­tor (to make sure she's worth the effort). Come up with a highly con­vinc­ing fic­tional life his­tory. Accept­able embell­ish­ments include ter­ri­ble maiden names like "Goula­hee," hav­ing grown up in a nuclear waste dump, and hang­ing out at Hank's Donut World. Bring her home in the back of your dirty pickup truck (but it's

OK

for your dogs to ride shotgun).
Step 2: Learn Pho­to­shop (or ask a friend with Pho­to­shop skillz–preferably inter­rupt­ing him while he's get­ting laid) so you can coun­ter­feit some wed­ding pho­tos to make her believe she deserves her shitty life in which you've pre­pared for her a list of house­hold chores as long as Edward Herrmann's face and stolen all her ideas for your hill­billy minia­ture golf course. And make that bitch sleep on the couch!
Step 3: ?????
Step 4:

PROFIT

!!! Mrs. Annie Prof­fitt, that is. Hurr hurr.
How does Over­board only have a 6.4 rat­ing on IMDB? Come on, The Inter­net, this movie deserves at least a 6.5.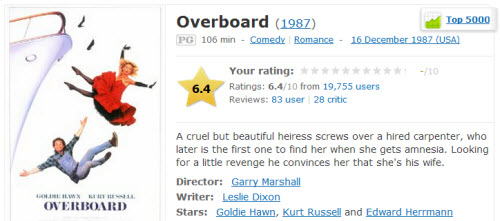 Other Kurt Rus­sell Awe­some­ness from The League: