As a male fash­ion doll, Ken has always been quite the met­ro­sex­ual, but these decade mugshots really empha­size his ques­tion­able sense of style through the years: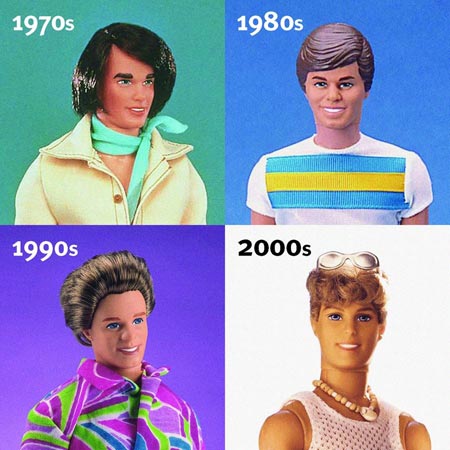 Let's start with 1970's Ken. What do you sup­pose that scarf is hid­ing? I have a few NSFW the­o­ries but I'll leave them to your imag­i­na­tion. His healthy, per­fectly man­scaped eye­brows are enough to make Brooke Shields weep with envy .
I'll let 1980's molded plas­tic hair Ken off the hook. The only thing he's guilty of is look­ing like a smug, yup­pie ass­hole , which was the pin­na­cle of male fash­ion back then. The only thing he's miss­ing is a Lacoste sweater draped del­i­cately over his shoul­ders, sleeves folded in a tidy knot.
Other than dress­ing like he raided Joey Gladstone's wardrobe,  1990's Ken wouldn't be so bad if he could just get that bouf­fant under con­trol. If there was ever such a thing as the exact oppo­site of cool, it is this Ken Doll's hair. On the bright side, he'll prob­a­bly never need Rogaine with Minox­i­dil .
By the 2000's , Ken has been com­pletely emas­cu­lated, pos­si­bly on pur­pose, as his dras­tic change in appear­ance indi­cates a pos­si­ble shift in strat­egy for Mat­tel, who are clearly try­ing to cap­i­tal­ize on the dis­pos­able income of the expand­ing GLBT mar­ket. As a suit­able male com­pan­ion for Barbie–or any woman, for that matter–frankly, this shit is just not acceptable.