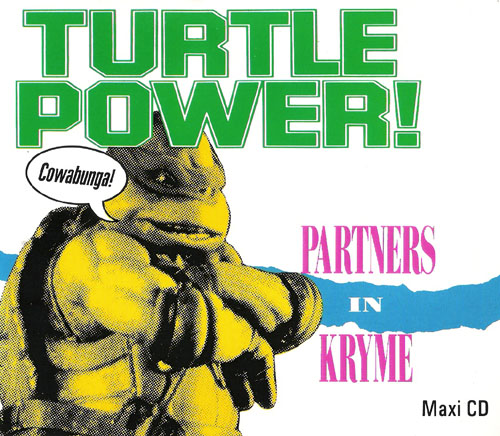 Though "Tur­tle Power" is an endear­ingly cheesy rap song that will for­ever live in the hearts of Teenage Mutant Ninja Tur­tles fans (espe­cially those who remem­ber how huge it was in the sum­mer of 1990), you have to admit it has some pretty stu­pid lyrics.
Part­ners in Kryme (for whom I should auto­mat­i­cally deduct points for spelling) may have recorded a catchy rap song, but dis­sect­ing their lyrics for "Tur­tle Power" is like read­ing through a sixth grader's book report on The Catcher in the Rye . It is non­sen­si­cal, poorly worded, and, at times, embarrassing.
But I guess when you're a kid you don't really read into these things too much. Your mind­set is more like: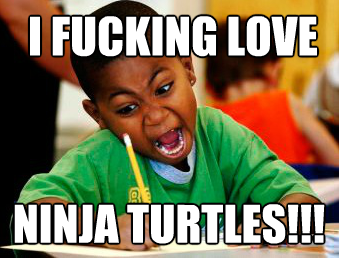 And thus pop cul­ture phe­nom­e­nons are born. They can't all be
Ghost­busters ' though.
I know what you're thinking–why focus on the lyrics when the music video is an even more tempt­ing gold­mine of stu­pid­ity? I've filed that away in my Future Blog Posts folder, which, thank­fully I'm the only one who looks at because it's prob­a­bly pretty weird to read out of context.
For now, let's stick to mak­ing fun of the "Tur­tle Power" lyrics because at the moment I don't have the time or cre­ative energy that would be required to tackle the above video.
Stu­pid Lyric #1
All police and detec­tives are furi­ous,
'Cause they can't find the source
Of this lethally evil force

What's so lethal and evil about a bunch of acne-ridden teenagers in black paja­mas steal­ing elec­tron­ics? Because that's pretty much all the Foot Clan did in this movie.
Stu­pid Lyric #2
This is seri­ous so give me a quar­ter.
I was a wit­ness, get me a reporter!
Yes, crime is SRS BSNS. And accord­ing to April's news report that opens the film, we learn "there appear to be no eye­wit­nesses to any of these crimes." Appar­ently she never inter­viewed Part­ners in Kryme or she'd have got­ten her big scoop.
Wait, why are they named Part­ners in Kryme if they're rap­ping about how bad crime is? Is this meant to be iron­i­cally funny? Were Part­ners in Kryme just early hip­sters? The photo for their song "Undercover"–the only other sin­gle they ever released besides "Tur­tle Power"–suggests this might be true.
(By the way, are pay­phones still around? That bit about quar­ters is mak­ing me feel really old.)
Stu­pid Lyric #3
Leonardo, Michae­lan­gelo, and Donatello
Make up the team with one other fel­low, Raphael
He's the leader of the group…
This is a line that has been piss­ing TMNT fans off for over 20 years. Every­one knows Leonardo is the leader–it's a well-established canon that's even men­tioned IN THE SAME DAMN MOVIE this song is from. So how does a thing like this hap­pen? Did nobody fact-check Part­ners in Kryme's lyrics? Did they choose to ignore it for the sake of a smoother rap flow? Was one of the rap­pers a fanat­i­cal Raphael fan? Was there a scrapped ver­sion of the film where Raphael was estab­lished as the leader? Ques­tions like these are why we need a Teenage Mutant Ninja Tur­tles Director's Cut; for now we at least have the director's com­men­tary .
Stu­pid Lyric #4
…Trans­formed from the norm by the nuclear goop.
Actu­ally, it's alien goop, but since Raphael's the leader now, who's wor­ry­ing over a triv­ial thing like the Turtle's ori­gin? (Answer: not Michael Bay .)
Stu­pid Lyric #5
Those are the words that their mas­ter instructed,
But a let­ter from Shred­der has Splin­ter abducted
The Tur­tles ago­niz­ing search for Splin­ter is cen­tral to the plot of the movie, but here Part­ners in Kryme sweeps it neatly under the rug. Wasn't that sweet of Shred­der to send a let­ter? I bet he dots his i's with lit­tle hearts.
Stu­pid Lyric #6
Now this is for real, so you fight for jus­tice,
Your shell is hard so you shout, "They can't dust us off!"
Like some old cof­fee table
Yup, "They can't dust us off!" is exactly what I shout when I'm angry. Because I'm so hard, 'yo.
Stu­pid Lyric #7
Since you've been born you've been will­ing and able
To defeat the sneak, pro­tect the weak,
Fight for rights and your free­dom of speech!
This isn't just some song about mutant tur­tles, this is a song about AMERICA!
But who or what is "the sneak?" Is that like a pet name to describe The Foot (you know, because they're nin­jas and nin­jas are sneaky)? Did TMNT have a crossover with Home­s­tar Run­ner in another dimension?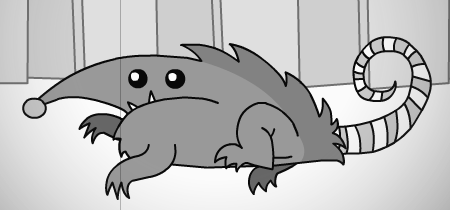 Or, what is prob­a­bly a more likely sce­nario, did Part­ners in Kryme just not have any­thing bet­ter to rhyme with "weak"? Jesus ' I can write bet­ter rap lyrics than these guys.
Stu­pid Lyric #8
Evil moves fast, but good moves faster
than light shin­ing for your illu­mi­na­tion

What the hell does this even mean? Does "good" move "faster than light"? Does "good" move at all? Could "good" be what some physi­cists refer to as "appar­ent" or "effec­tive" faster-than-light, abbre­vi­ated as FTL, which is based on the hypoth­e­sis that unusu­ally dis­torted regions of space­time might per­mit mat­ter to reach dis­tant loca­tions in less time than light could in nor­mal or undis­torted space­time. Although accord­ing to cur­rent theories–oh, fuck it.
And while we're on the subject…
'Tur­tle Power' had stu­pid album art, too. Why isn't "TURTLE POWER!" cen­tered? Why did the designer use a reverse image of Raphael that looks com­pletely unnat­ural? Who chose this color com­bi­na­tion, a blind per­son?  I have so many questions!