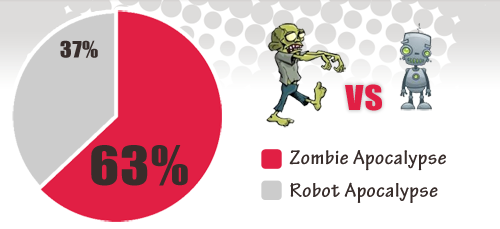 In last moth's poll , I asked you guys which dooms­day sce­nario you'd rather have hap­pen: a zom­bie apoc­a­lypse or a robot apoc­a­lypse. Here's how you responded:
63% of you would wel­come the Zom­biepoca­lypse like the Sec­ond Coming
37% of you would rather take your chances with the robots (big mistake!)
Win­ner: Zombies!
I can't say I'm sur­prised by these results, hav­ing thrown my base­ball bat in for the zom­bies as well. How­ever, most of the com­ments on my orig­i­nal post were lean­ing heav­ily toward robots –really guys? I'm with The Man Who Stares at Toys on this one:
"Zom­bies all the way…I don't want to be pit­ted against some­thing that likely has the abil­ity to work in total uni­son of com­mu­ni­ca­tion, have mas­tery over strat­egy, effi­cient com­bat skills and use logic and tac­tics against me."
With killer robots, we'd pretty much be fucked. If we're not killed instantly by their death rays or tricked into our own demise because they can shapeshift to look just like us, we'll be har­vested like bat­ter­ies for energy.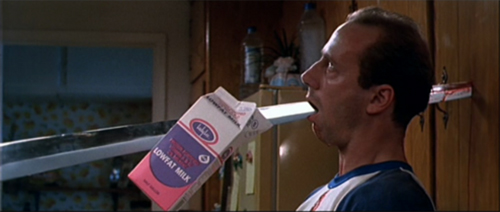 While any "-oca­lypse" sce­nario is  simul­ta­ne­ously awe­some and sucks for mankind, most of you who took the poll agree that zom­bies are our best bet for sur­vival. I mean, haven't we con­sumed enough zom­bie movies, TV shows and video games to know how to han­dle our­selves ? We got this.