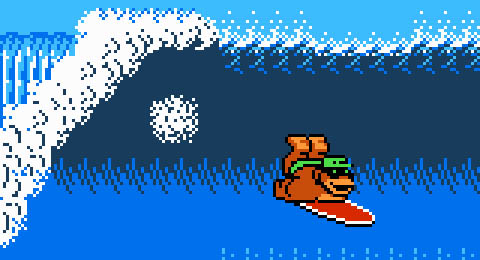 I know, what an oddly spe­cific topic for a Top 10 list. But here's the thing: I'm tak­ing my annual beach vaca­tion as of today, so all of my posts this upcom­ing week will be related to the beach or the ocean in some fash­ion because that's just the frame of mind I'm in. And since I typ­i­cally blog about retro games any­way, I thought this would make for a fun cross-section of my inter­ests since I love real beaches almost as much as I love pix­e­lated ones.
So here are my Top 10 favorite beach or ocean-themed games from the 8– & 16-bit eras. Surf's up!
#10 — Adven­ture Island
Year:  1988
Plat­form:  Nin­tendo Enter­tain­ment System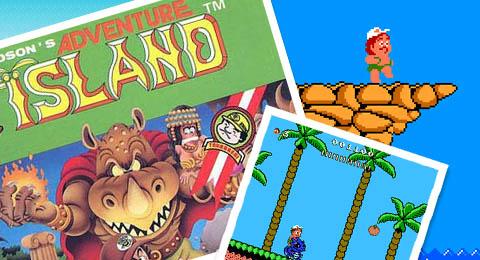 This game is SO FRUSTRATING, but every now and then I play it as if one of these days there's going to be a dif­fer­ent out­come. Actu­ally, this game kind of sucks. That, or I just suck at it. Regard­less, I sup­pose it's con­sid­ered a clas­sic Nin­tendo game, even if it is just an adap­ta­tion of Sega's Won­der Boy . How­ever, I'm only includ­ing it for the ben­e­fit of hav­ing ten games on this list, because with­out it I'd have only had nine. Ha! Take that, Adven­ture Island , you piece of crap.
#9 — Puggsy
Year: 1993
Plat­form: Sega Genesis/CD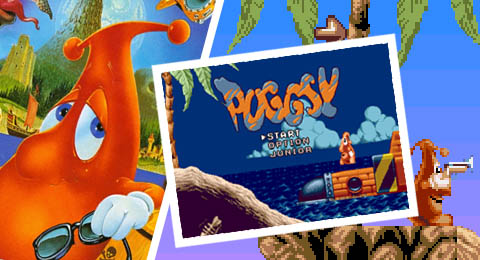 Pug­gsy is a weird-looking orange alien whose space­ship crash lands on a trop­i­cal planet, where the object of the game is to get back to your ship. It's a cool lit­tle plat­former with some puz­zle game­play ele­ments requir­ing you to pick up and use objects to get past obsta­cles. I can't remem­ber exactly how I dis­cov­ered it (prob­a­bly through Sega Visions mag­a­zine), but I remem­ber rent­ing it sev­eral times when I was young and hav­ing a blast with it.
#8 — Jaws
Year: 1987
Plat­form: Nin­tendo Enter­tain­ment System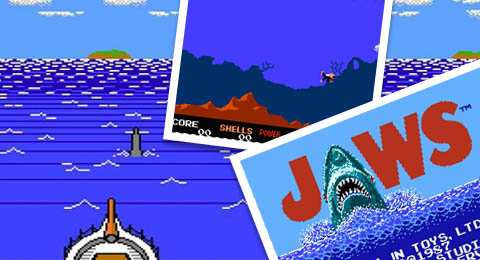 Who says all video games based on movies suck? Jaws was a rare excep­tion for the Nin­tendo Enter­tain­ment Sys­tem (although the game does have its haters, but to those peo­ple I offer this sim­ple math: SHARKS > YOU). The game­play was a weird blend of over­world boat nav­i­ga­tion and under­wa­ter shoot 'em up. You'd basi­cally sail around until you hit "some­thing" (some­times Jaws him­self) at which point the game switches to diver mode where you'd do your best to avoid being hit while shoot­ing at any­thing that moves–hopefully Jaws.
#7 — Town
&

Coun­try Surf Designs: Wood

&

Water Rage

Year: 1988
Plat­form:  Nin­tendo Enter­tain­ment System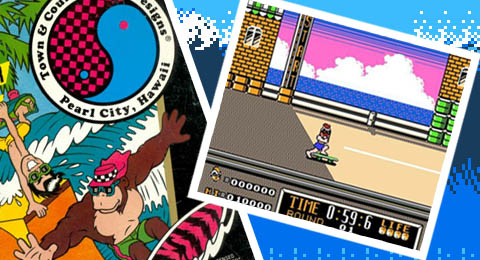 Just hear­ing the chip­tune waves on the decid­edly min­i­mal­ist title screen for T&C Surf Designs  (which is what I've always called the game despite its retard­edly long full name Town & Coun­try Surf Designs: Wood & Water Rage )  takes me back to child­hood. The neighbor's boy had this game and I didn't, so nat­u­rally I was jeal­ous of him. And he never let me be Thrilla Gorilla either, the stu­pid jerkface.
#6 — Cool Spot
Year: 1993
Plat­form: Sega Gen­e­sis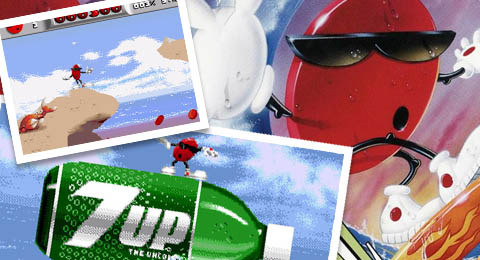 Cool Spot was a sur­pris­ingly decent game for basi­cally being a 7-Up adver­tise­ment. This side-scrolling plat­former had bright, beau­ti­ful graph­ics depict­ing cheer­ful beachy back­drops and a pretty cool sound­track  with surfer-style tunes. And Spot him­self (as well as all his lit­tle Spot friends who all looked exactly alike) was pretty freakin' adorable.
#5 — Green­dog the Beached Surfer Dude
Year: 1992
Plat­form: Sega Genesis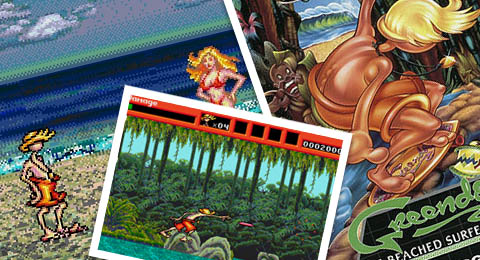 Not a ter­ri­bly orig­i­nal game con­cept, or game for that mat­ter, but Green­dog the Beached Surfer Dude was tons of fun. Despite its ter­ri­ble name–which was prob­a­bly con­ceived at the pin­na­cle of surfer "dud­estal­gia" when movies like Point Break were all the rage– Green­dog was a side-scrolling adven­ture game that had a lot going for it, like its cool calypso sound­track, skate­board­ing lev­els, and vine-swinging action. (For some rea­son I love games where you get to swing on vines; I blame early expo­sure to Pit­fall .)
#4 — Star Tropics
Year: 1990
Plat­form: Nin­tendo Enter­tain­ment System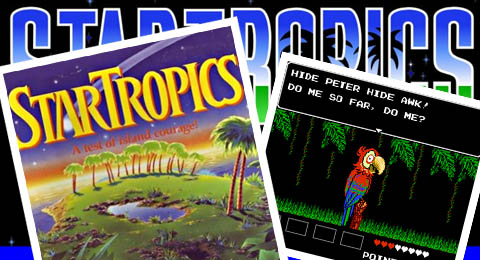 Oh Star Trop­ics , you mag­nif­i­cent bas­tard. Rarely does a game man­age to be so effin' weird but so much fun at the same time. It's like The Leg­end of Zelda meets the top-down phases of  Blaster Mas­ter,  with bizarre char­ac­ters and an even more bizarre plot. Oh yeah, and aliens.
#3 — Rain­bow Islands/Bubble Bob­ble 2
Year: 1990
Plat­form: Sega Genesis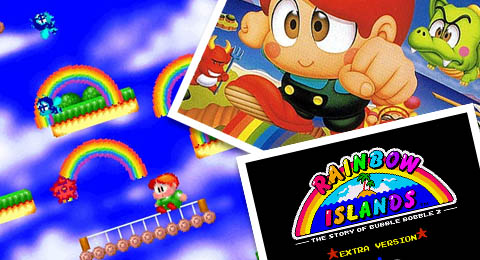 I've only ever played the port of this game for Sega Gen­e­sis (titled Rain­bow Islands Extra ), but sup­pos­edly its exactly the same as the orig­i­nal arcade game with a few minor dif­fer­ences. Rain­bow Islands makes up for the fact that its pro­tag­o­nists aren't the cute drag­ons you remem­ber from the first Bub­ble Bob­ble ( here's why ) by being a truly fun game. It's chal­leng­ing, has bright, col­or­ful, over-the-top graph­ics and chintzy music; all the things an arcade game from this era should have. And what's not to love about shoot­ing rainbows?
#2 — Ecco the Dolphin
Year: 1992/1993
Plat­form: Sega Genesis/CD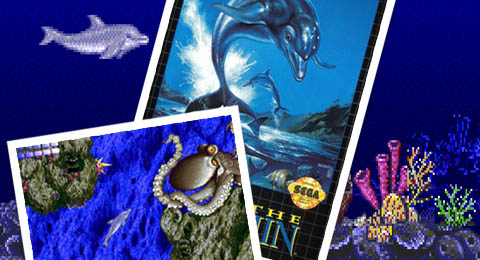 I prob­a­bly wouldn't hes­i­tate to put Ecco the Dol­phin on my list of all-time favorite Gen­e­sis games, let alone an overly-specific list like this one. The game is just freak­ing cool, as well as weird and  trippy as hell  (and I won't even get into how strange the sequel is). And yet it was beau­ti­ful and peace­ful at the same time, with a sooth­ing, synth-heavy sound­track not unlike some­thing you might hear in a PBS ocean doc­u­men­tary. The game­play was fun and chal­leng­ing too, with some unique ele­ments like the sonar sys­tem that helps you nav­i­gate your way through treach­er­ous ocean depths. All right, I'll just come right out and say it: I LOVE ECCO THE DOLPHIN!
#1 — The Secret of Mon­key Island
Year: 1990
Plat­form:  PC (DOS)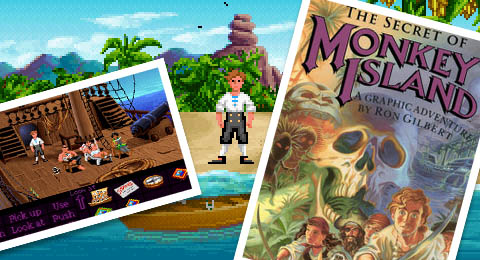 The LucasArts point-and-click adven­ture game that has spawned a num­ber of hit sequels and a devoted fol­low­ing. It's a mas­ter­piece; what more can I really say about it? If you've never played this game or any game in the Mon­key Island series, we can't be friends any­more you're really miss­ing out on some­thing great.