I've been all about mum­mies lately. I don't really know why, but I am! Espe­cially cute mum­mies. I was inex­plic­a­bly drawn to this pack­age of Mike & Ike Mummy's Mix at the gro­cery store the other day, I think mainly because of the cool-looking car­toon mummy on the pack­age. If there was a toy or fig­ure of some sort that looked like him, I would totally buy it. And then I remem­bered that last year my sis­ter had given me a set of LED mummy string lights, and these pho­tos were born.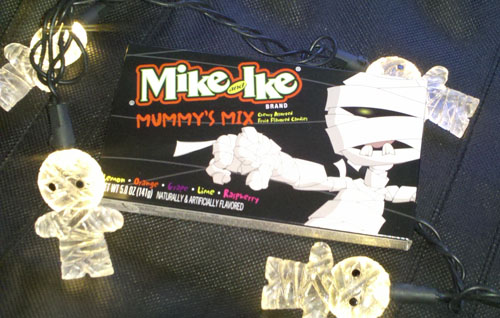 The pack­ag­ing is cool, but the candy itself is noth­ing to write home about. They look and taste just like reg­u­lar Mike and Ikes, but with the addi­tion of two dif­fer­ent fla­vors. How un-fun. I was so under­whelmed I couldn't even bring myself to write  a proper review of them. The mummy string lights were a nec­es­sary addi­tion so that I wouldn't bore you to tears talk­ing about them.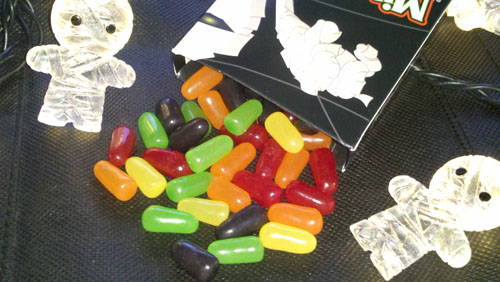 I have to agree with Shawn over at Branded In The 80s that Mummy's Mix is pretty fail. I fully sup­port his idea that these Mike and Ikes should be all white and come in mys­tery fla­vors. They could even go the extra mile and dot the all-white bod­ies with two lit­tle black eyes. That would take these from "meh" to ah-meh-zing . Are you lis­ten­ing, peo­ple who make Mike & Ike?? You need to step up your game.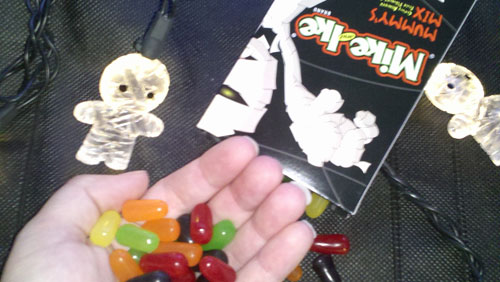 Also, I dug this lit­tle wind-up guy out of my Hal­loween stash to star in this blog post. Just look at that face. It makes me inde­scrib­ably happy. As if it were pos­si­ble to love him any more than I already do, he also glows in the dark! I would have taken a pic­ture of his glow magic, but my phone takes crappy pic­tures on a  good  day and I wouldn't want to short-change him like that–he deserves bet­ter. Trust me though, it's a breath­tak­ing sight.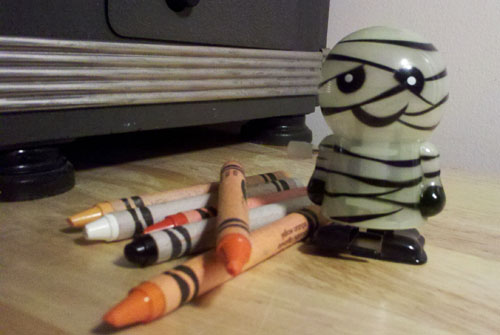 And lastly, I'll leave you with my favorite groan-worthy mummy joke:
Q: What do you get if you cross a mummy with a CD?
A: A wrap song!
P.S. — 29 Days 'Til Halloween