It was just a month ago that I was express­ing my dis­ap­point­ment over the iPad's lack of Pit­fall , despite offer­ing an Atari's Great­est Hits app with 100 clas­sic Atari games. As if Activi­sion was read­ing my mind (or my blog!),  last week, the Activi­sion Anthol­ogy app arrived to rem­edy that prob­lem and answer my prayers.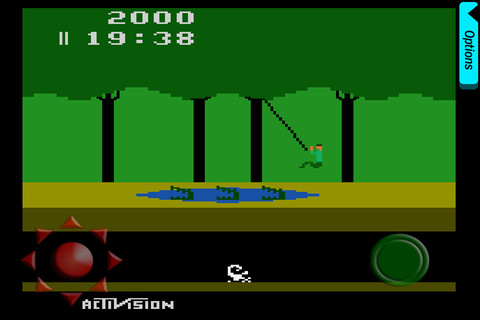 Here's the full list of games avail­able in the app; see the iOS column.
I also want to point out that the on-screen con­trols, as shown in the Pit­fall screen­shot above, are not your only option. The app gives you three dif­fer­ent con­trol options, includ­ing touch and tilt; what­ever is most com­fort­able for your play style. How­ever, not all of these con­trol schemes are avail­able to all games, BUT I do like that the app lets you set uni­ver­sal con­trol pref­er­ences when available.
The Activi­sion Anthol­ogy app itself is free and comes with a free copy of KABOOM!, but if you want the full col­lec­tion of Activi­sion games, includ­ing Pit­fall, it will cost $6.99. Or you can pur­chase 11-packs of games for $2.99 each. All in all, not a bad price for so much mobile retro gam­ing goodness.