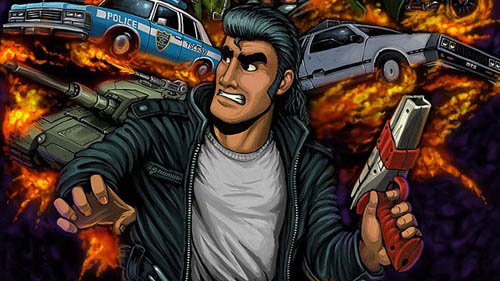 One of the coolest-looking games from the biggest yawn-inducing E3 in recent mem­ory is an indie game for Playsta­tion Vita called Retro City Rampage.
It's a throw­back to the 8-bit NES games and arcade clas­sics of yes­ter­year, but with open-world, mission-style game­play that pays homage to Grand Theft Auto. I got aroused just typ­ing that sen­tence. The game is also full of nos­tal­gia, pop cul­ture ref­er­ences and other assorted kick­assery, like mis­sions that par­ody the famous bank heist scene from The Dark Knight.
Here's the game­play trailer that pre­miered at E3:
It reminds me quite a bit of one of my  favorite NES games '  Teenage Mutant Ninja Tur­tles– just look at that under­wa­ter level and hear those sound effects. And that green van-looking vehi­cle you see on the over­world map could totally pass for the Party Wagon. Seem familiar?
Even though I'd love to have this as a hand­held game, I'll pick­ing this one up for XBLA because I don't have any imme­di­ate plans to pur­chase a Vita.