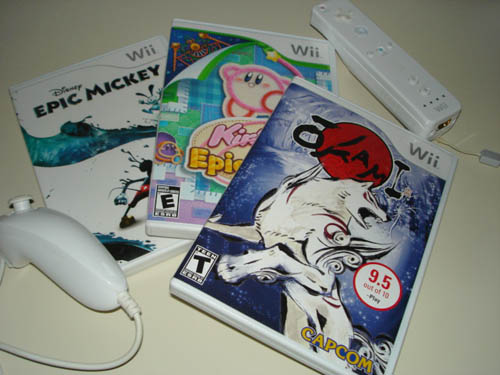 Yes­ter­day my shopa­holic sis­ter dragged me to the local mall, which is usu­ally my idea of Hell, but the trip ended up being worth­while. While she was in Pay­less shop­ping for cheap shoes, I ducked into the neigh­bor­ing GameStop and had a good look around.
Wii games, espe­cially used   pre-owned Wii games, seem to have dropped in price sig­nif­i­cantly since the last time I looked, which was prob­a­bly a cou­ple of months ago. I picked up pre-owned copies of Epic Mikey, Kirby's Epic Yarn, and Okami* for $11 — $15 each.
With the Wii U rumored to be releas­ing some­time in Novem­ber and retail­ers anx­ious to unload this stuff, I can only imag­ine Wii game prices will con­tinue to come down as we get closer to the Wii U launch date. If you still have a Wii and have been mean­ing to get around to play­ing some of the console's top-rated titles, now might be a good time to pick them up.
*If you're won­der­ing why I bought the Wii ver­sion of Okami ver­sus wait­ing for the HD remake that's com­ing to PS3 in Novem­ber, it's because of this , in the vain hope it will be a collector's item some­day. I'm still going to buy Okami HD any­way!
And I'm just going to leave this here…
Because it's even more hilar­i­ous now.