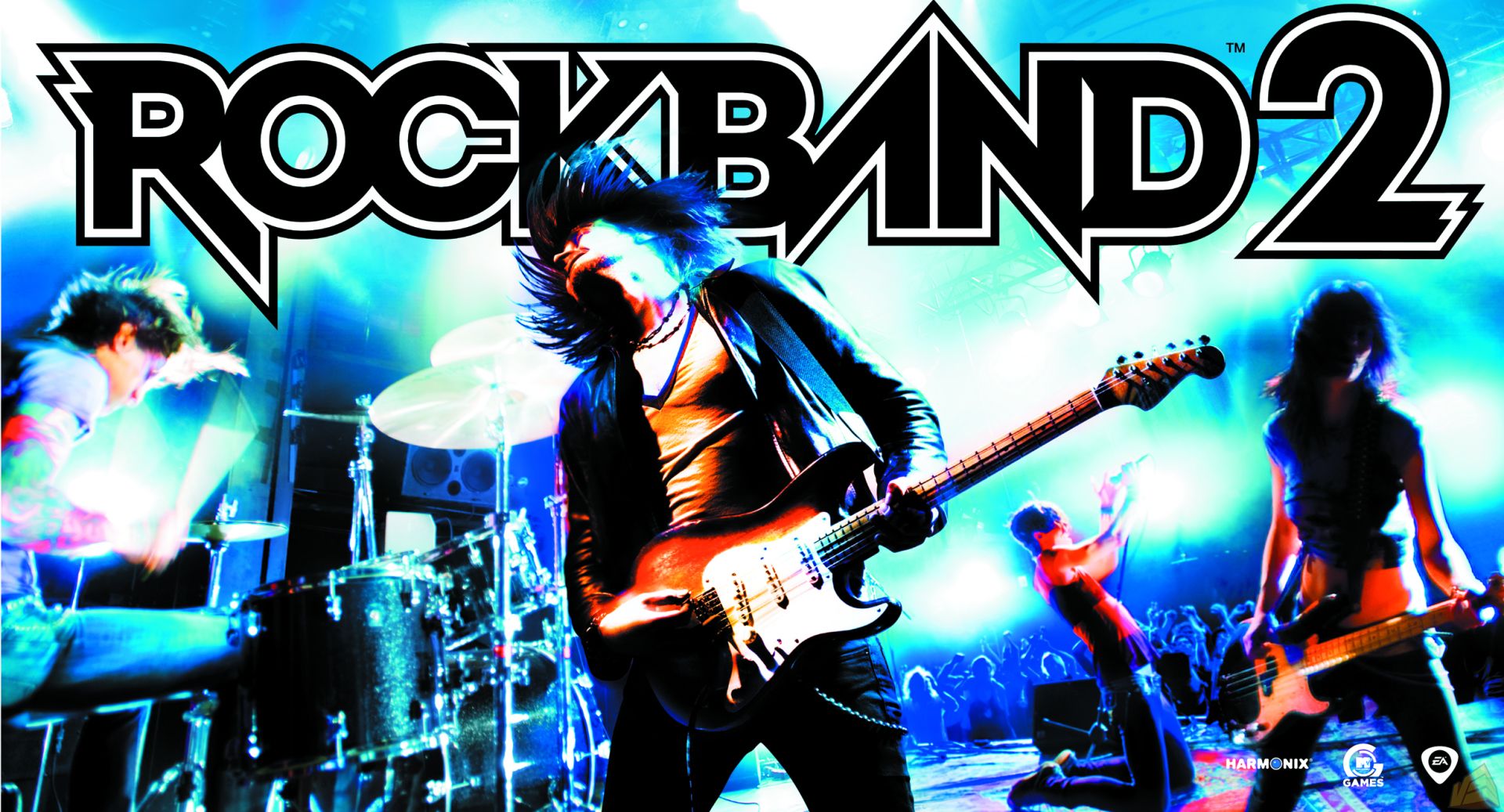 Okay, I know Rock Band 2 has been out for a few months, but after getting it for Christmas and being completely consumed by it ever since, I feel more than a little compelled to declare my love for it.
My previous Rock Band experience had been limited to a one-night stand with Rock Band 1 at a seedy karaoke bar in Baltimore where the guitars and drums had seen better days and the same bunch of drunk douchebags kept getting up to play "Wanted Dead Or Alive" over and over and over again.  And knowing how expensive it was to buy the whole outfit, I figured I'd wait it out and keep myself occupied with the Guitar Hero series I already owned and loved for PS2.  Besides, I had heard about Rock Band's hardware issues, the drums breaking, the guitar's strummer sucking, and felt fully justified not ever buying it.
So when Rock Band 2 came out and I heard about all its features, new songs, and improvements over the original Rock Band, it immediately went on my wishlist.  But being somewhat broke around that time and trying to save money for Christmas shopping, I held off.

And then I got Rock Band 2 for Christmas, and I felt like Ralphie opening his Red Ryder BB gun.
Fun Solo Play
I took it home and set it up immediately, where it is currently dominating my living room.  I cranked the volume on my surround sound system and tried a couple of Quickplay Solos on the guitar just to warm things up–I've had difficutly putting it down ever since.  Since I was already familiar with the Guitar Hero series, I had no problems playing guitar for Rock Band 2 and was suprised at the quality of the guitar controller.  Very smooth, nicely weighted, and realistic-looking.  Next I tried out the drums, which I had never played before, and I admit it took some getting used to.  My hand-eye coordination is awesome, but my foot-eye coordination?  Not so much.  Hitting those beats embedded in the foot pedal beats were rough, and I'm glad nobody was around on my maiden voyage of rock to watch me make a complete fool of myself.  But still, the drums are FUN.  Surprisingly so.  And I'm getting better.  Then I tried out the mic and sang for a few songs (again grateful that nobody was around) and by that point the sun was coming up and I couldn't tell you where the time went.
Awesome Multiplayer
The next night I invited family over, anxious to try out the multiplayer.  I should preface this by saying  that except for my brother-in-law, my family does NOT play video games.  But with a few drinks in them and my sincere promise not to laugh, they let loose–on Easy mode, of course.  The gameplay is so infectious on multiplayer since everyone's trying to do their best so they don't screw up the song for the other people in the band.  And it helps that the music is great.  I was really impressed how much fun it was for a bunch of non-gamers.  Also, the character creation process was really fun; everyone had a good time with that.
Tour Mode is Addictive
Then my boyfriend and I started a band (I'm the drummer, he's the lead guitarist) and playing through all the venues and racking up fans and cash is super fun.  Although I think some gigs completely whore you–$20 bucks for a 5-star performance?  Seriously, GTFO.  Warning: playing Rock Band 2 with your significant other will lead to arguments.  Like when I want to spend all our money on cute slutty outfits for my character, and he wants to save up for better quality instruments.
New to Rock Band period?
Here's why you should buy Rock Band 2 instead of Rock Band 1:

Ability to purchase lots of additional tracks = unlimited replay value
Improved drum set, compatible with cymbal kit add-on (sold separately)
Improved guitar with better strum bar and more realistic feel
You can import all the songs from Rock Band 1 (for $5/500 points)
No Fail mode
Online world tour play
I can't see any reason to even go back and purchase Rock Band 1.  Rock Band 2 is really that much better.
Awesome solo game?  Check.  Awesome multiplayer game?  Check.  Kickass music?  Check.  Fun for both gamers and non-gamers?  Check.  Just a few reasons why I think Rock Band 2 is the perfect game.