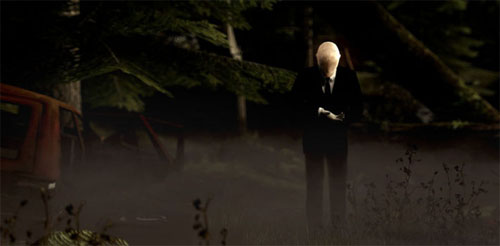 As it turns out, play­ing  Slen­der  right before you go to bed is not a good idea.
This free indie hor­ror game by Mark J. Hadley, aka Agent­Par­sec  was cre­ated using the Unity game engine and is based on the inter­net creep­y­pasta Slen­der Man mythos. I first heard about it over at IndieGames.com and put it on the back burner of my To Play list, but by the next day prac­ti­cally every major gam­ing site was rav­ing about it.
In Slen­der , you're armed only with a flash­light as you roam the woods at night on a mis­sion to col­lect eight pages of notes. Oh, and the Slen­der Man ran­domly pops up to SCARE THE LIVING CRAP OUT OF YOU.
Here's a game teaser that I don't rec­om­mend watch­ing alone with the lights out:
Hor­ror games, espe­cially hor­ror adven­ture games , are among my favorite types of games to play, and many of them gen­uinely freak me out like Amne­sia: The Dark Descent (when's that sequel going to get here already?), Scratches, and The Lost Crown . What's so impres­sive about Slen­der is how utterly sim­ple it is yet so terrifying.
If you're feel­ing brave, you can down­load and play Slen­der from Medi­afire for Win­dows or Mac  for free.