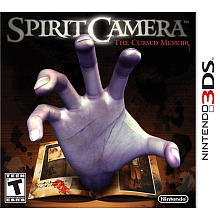 Today Nin­tendo unleashed a load of shiny new 3DS trail­ers in their  Nin­tendo Direct presentation.
The game that most caught my eye was Spirit Cam­era: The Cursed Mem­oir, which is the newest addi­tion to the Fatal Frame series of games.  It also has the dis­tinc­tion of being one of the only few hor­ror titles soon to be avail­able on the 3DS plat­form (in the US, at least).
Spirit Cam­era: The Cursed Mem­oir intro­duces a mys­te­ri­ous girl named Maya who has been hid­ing in the shad­ows of an old house. Play­ers must help Maya break free from a ter­ri­fy­ing curse by aid­ing her escape from the clutches of a malev­o­lent woman in black. By using the Nin­tendo 3DS system's built-in cam­era, play­ers can view Maya in their own sur­round­ings as the game's eerie events unfold.
Check out the game's eerie trailer below:
I'm thrilled to see more upcom­ing hor­ror titles for 3DS, and frankly, it's about time.  The DS plat­form sorely lacks hor­ror titles, but the few that exist are excep­tion­ally good games. I should really do a blog post about that…