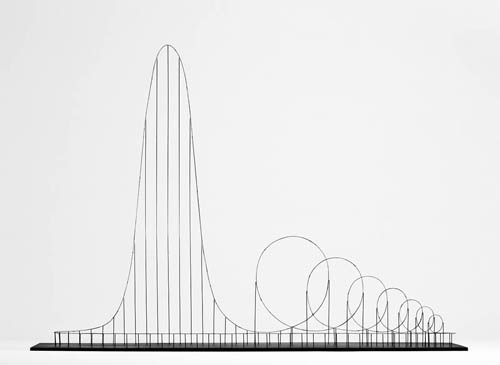 This is one of the more inter­est­ing  hor­ri­fy­ing Wikipedia dis­cov­er­ies I've made of late:
The Euthana­sia Coaster  is a real con­cept (pic­tured above) for a steel roller coaster designed to kill its pas­sen­gers with "ele­gance and eupho­ria." Here's the very sci­encey expla­na­tion for how it works:
The Euthana­sia Coaster would kill its pas­sen­gers through pro­longed cere­bral hypoxia, or insuf­fi­cient sup­ply of oxy­gen to the brain.   The ride's seven inver­sions would inflict 10 g on its pas­sen­gers for 60 sec­onds – caus­ing g-force related symp­toms start­ing with gray out through tun­nel vision to black out and even­tu­ally g-LOC (g-force induced loss of con­scious­ness). Depend­ing on the tol­er­ance of an indi­vid­ual pas­sen­ger to g-forces, the first or sec­ond inver­sion would cause cere­bral anoxia, ren­der­ing the pas­sen­gers brain dead.  Sub­se­quent inver­sions would serve as insur­ance against unin­ten­tional sur­vival of par­tic­u­larly robust pas­sen­gers.
I've bolded that last bit so you can fully appre­ci­ate the impli­ca­tions. I bet I would be one of those "robust pas­sen­gers." The most "extreme" roller coaster I've ever rid­den was the Top Thrill Drag­ster at Cedar Point, which is fre­quently cited on lists like this as being one of America's most intense roller coast­ers. It's 400 feet tall and has a max speed of 120 miles per hour. And you know what? It's kinda weak.
"One minute we're laugh­ing…
the next minute he's dead!"
Just for fun–because it's sum­mer­time and I've been on a theme park kick lately–here's a round-up of some of my other favorite roller coast­ers that were designed to kill you.
The Devastator
A roller coaster with 15-story drops, 90 degree turns, and TWO WHOLE MINUTES UNDERWATER. A bril­liant clip from Mr. Show , one of the best sketch com­edy shows ever.
Mr. Bonestripper
Noth­ing But Trou­ble  is a movie that would have been more appro­pri­ately titled Noth­ing But Awe­some , because it had crazy-ass stuff like this:
(the bon­estrip­ping good­ness starts at 1:18 )
Fiery Fist O' Pain
A sign next to the Fiery Fist O' Pan, a roller coaster in Sponge­Bob Squarepants , warns that the ride may cause "Cry­ing, Scream­ing, Pro­jec­tile vom­it­ing, Amne­sia, Spine Loss, Embar­rass­ing Acci­dents, Uncon­trol­lable Gas, and Explo­sive Diarrhea."