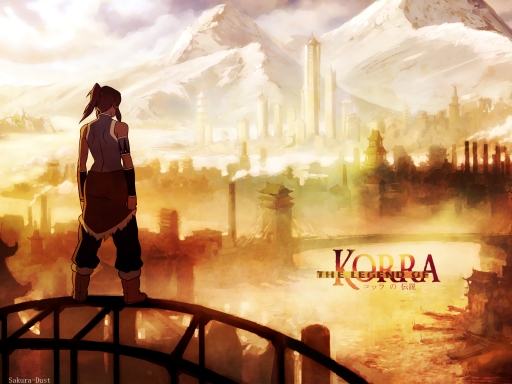 I should pref­ace this review of Nickelodeon's new ani­mated series  The Leg­end of Korra by telling you that I'm not an Avatar: The Last Air­ben­der fan. Not because I don't like Avatar , I've just hon­estly never seen it. All I know about Avatar is that it's an incred­i­bly pop­u­lar anime and that M. Night Shya­malan made an incred­i­bly shitty movie about it (which I actu­ally have seen).
Until today, The Leg­end of Korra is a show that wasn't even on my radar. But I heard a lot of pos­i­tive buzz on Twit­ter about it (espe­cially these tweets from @WallsofJellico , who I'd like to thank for intro­duc­ing me to the series), and since the peo­ple I fol­low on Twit­ter have amaz­ing taste, I just had to check it out for myself.
Here's the syn­op­sis from IMDB:
Tak­ing place 70 years after the events of "Avatar: The Last Air­ben­der," this story fol­lows the adven­tures of the Avatar after Aang — a pas­sion­ate, rebel­lious, and fear­less teenage girl from the South­ern Water Tribe named Korra. With three of the four ele­ments under her belt (Earth, Water, and Fire), Korra seeks to mas­ter the final ele­ment, Air. Her quest leads her to the epi­cen­ter of the mod­ern "Avatar" world, Repub­lic City — a metrop­o­lis that is fueled by steam­punk tech­nol­ogy. It is a vir­tual melt­ing pot where ben­ders and non-benders from all nations live and thrive. How­ever, Korra dis­cov­ers that Repub­lic City is plagued by crime as well as a grow­ing anti-bending rev­o­lu­tion that threat­ens to rip it apart. Under the tute­lage of Aang's son, Ten­zin, Korra begins her air­bend­ing train­ing while deal­ing with the dan­gers at large. (Source: IMDB )
If you have Ver­i­zon Fios, the first two episodes are avail­able on demand, which I devoured eagerly. Here are my first impressions:
I love the art style.
What got my atten­tion right away is the gor­geous ani­ma­tion. Just look at this trailer:
Also: Steam­punk!? Yes please.
Korra is a great character.
She's feisty, inde­pen­dent and can kick some seri­ous ass. But she has her flaws too: impa­tience, hot­head­ed­ness, and a lack of con­fi­dence in her own abil­i­ties. Plus, she rides around on a ridicu­lously cute dog that looks like a giant polar bear.
The action sequences are crazy awesome.
I found myself really absorbed in the fight scenes, which have unique direc­tion and cam­era effects. Kora users her bend­ing pow­ers in cre­ative ways, like turn­ing the river under the bridge she's rid­ing over into a gigan­tic ice wall blockade–without looking!
It's funny!
The show made me laugh out loud on more than one occa­sion, which was sur­pris­ing. Korra's a pretty snarky girl and she has some of the best lines.
Poten­tial for romance?
In Repub­lic City, Korra meets Bolin and Mako, teen broth­ers who are also ben­ders and hap­pen to be polar oppo­sites when it comes to per­son­al­ity. There was def­i­nitely some chem­istry going on between Korra & Mako, even though Bolin's the one who hits on her first.
It's mak­ing me even more excited for 
TMNT

.

Nick­elodeon seems to be on fire lately with some really great shows in their cur­rent lineup, and of course the CGI ani­mated reboot of Teenage Mutant Ninja Tur­tles com­ing later this year. If the qual­ity of  The Leg­end of Korra is any indi­ca­tion of what we can expect  for TMNT, my hype-o-meter is off the charts.

The Leg­end of Korra pre­mieres every Sat­ur­day morn­ing on Nick at 11 AM. I'll def­i­nitely be tun­ing in for the remain­ing 23 episodes this season.