For this week's assign­ment from The League, I didn't have to look very hard for inspi­ra­tion. When I think "green" I auto­mat­i­cally think Teenage Mutant Ninja Tur­tles .
They're the world's most fear­some fight­ing team
They're heroes in a half shell and they're GREEN 
So today I thought I'd share some of my TMNT col­lec­tion with you.
I just recently got my hands on these fig­ures from Nickelodeon's new line of TMNT toys. I love how each Tur­tle is a dif­fer­ent shade of green, like the orig­i­nal Play­mates TMNT fig­ures from the 80s. This is the first time I've ever posed action fig­ures for a pho­tos. I had so much fun I even went the extra mile and Photoshop'd together a decent back­drop and used some dra­matic light­ing. I'm kind of proud of it!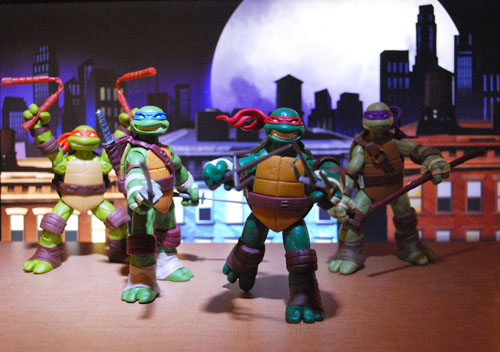 Ran­dom TMNT movie stuff: The Secret of the Ooze poster and trad­ing cards, DVDs of the first two films (my VHS copies are too bat­tered to be pre­sentable), and a VHS of Behind the Shells: The Mak­ing of Teenage Mutant Ninja Tur­tles .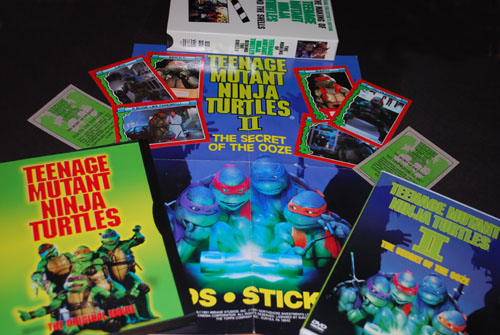 Remem­ber these trad­ing cards from the orig­i­nal TMNT car­toon? Here are some of my favorites.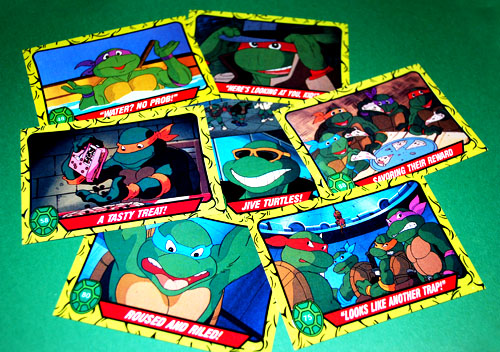 Some of my TMNT comics. I tried to pick out the ones where the Tur­tles' green col­or­ing was the most vivid.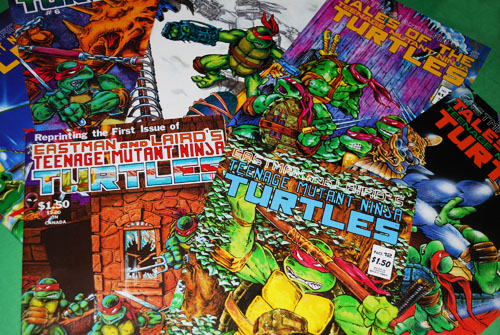 Some old school TMNT games for NES and Super Nin­tendo. Why the sai? No rea­son, really. I just thought it would make for a more inter­est­ing photo. And it's also kind of funny because I never use Raph in TMNT games.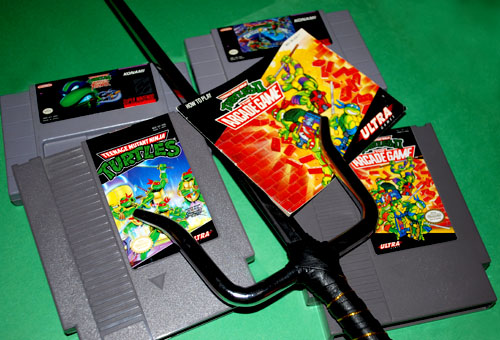 I'd love to show you more, but I'd need about a  week to pho­to­graph every­thing! Per­haps I'll save it for some future blog posts. ;)
The League Goes Green
Won­der­ing what this is all about? This week's assign­ment from  The League of Extra­or­di­nary Blog­gers was our first photo chal­lenge! The sub­ject was sim­ply "things that are green." Here're some other cool green things my fel­low Lea­guers took pic­tures of: