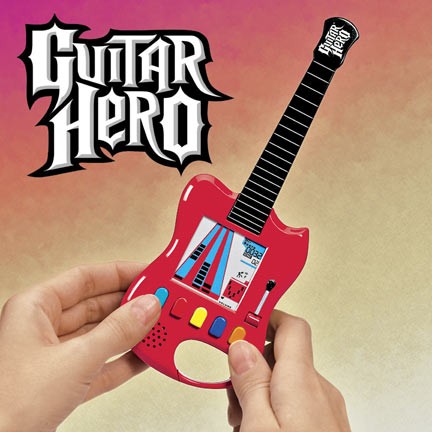 Don't ask why, but I was idly brows­ing the Har­riet Carter site, a glo­ri­ous domes­tic baz­zare of gifts for old peo­ple and As Seen On TV prod­ucts, when I stum­bled upon the com­plete fail­ure above.
"Gui­tar Hero® hand­held game packs all the action of the mon­ster video game into a pocket-sized ver­sion you can play any­where!"
O RLY? I bet Free Bird sounds AWESOME on that tiny speaker.  For $17.98 plus ship­ping and han­dling, it even has a cara­biner, so you can clip it to your belt and walk around with an over­priced piece of plas­tic shame dan­gling from your waist.  This is exactly the type of bull­shit clue­less par­ents buy their kids,  try­ing to save a few bucks, only to find it quickly dis­posed and for­got­ten.  They could just take their money to GameStop and buy a used copy of the real Gui­tar Hero for about the same price.
This deserves a spot on my Worst Gifts for Gamers list. Per­haps a Part 2 is in order.