So, here's a thing I did that you Ninja Tur­tle fans might appreciate.
A few weeks ago  Under­Scoop­Fire  (friends of ShezCrafti.com and one of my favorite places to lit­ter the inter­net) asked me if I'd like to do a TMNT-related guest post in antic­i­pa­tion of the new Nick­elodeon show and to wax nerdy about the gen­eral awe­some­ness that is Teenage Mutant Ninja Tur­tles. Nat­u­rally I said SHELL YES!
Teenage Mutant Ninja Tur­tles is a fran­chise that's going on 30 years old and one that many of us grew up with. Over the years there's been many dif­fer­ent ver­sions of the Tur­tles across all media–comics, TV, film, toys, video games–even the stage. I wanted to do some­thing to pay my respects to the past three decades of TMNT his­tory and show­case the many dif­fer­ent ver­sions of the Turtles.
This info­graphic is the result:
[Click here to view it full-size]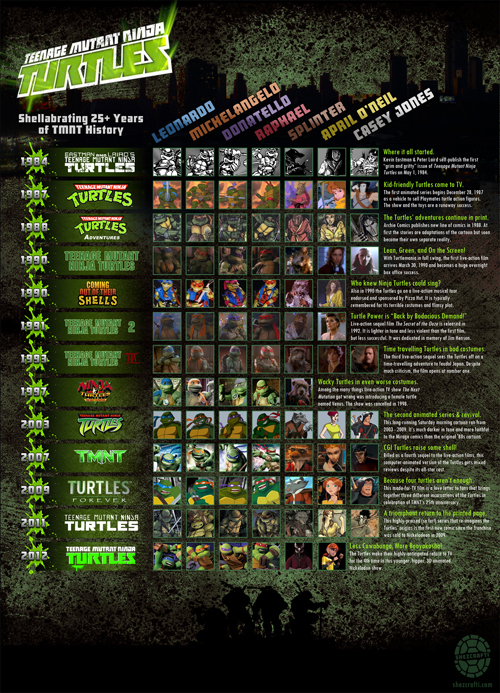 Head on over to Under­Scoop­Fire to read my guest post  Shelle­brat­ing 25+ Years of TMNT His­tory  and check out all the other retro-tastic con­tent the site offers for us chil­dren of the 80s!