This week The League is feel­ing young–which I guess isn't very sur­pris­ing for a blog­ging group where the major­ity of us are over 30 and still play with toys , but that's beside the point. In the spirit of Young Indi­ana Jones, Young Franken­stein and Young Guns , we were given the ultra fun task of com­ing up with a con­cept for a "Young" pre­quel or series based on an exist­ing prop­erty. Nat­u­rally I chose the Teenage Mutant Ninja Tur­tles .
I know what some of you reg­u­lar read­ers are prob­a­bly think­ing right now: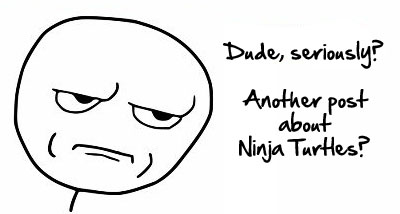 Look, I don't want to hear it. It's my blog and I do what I want.


And yes, I'm well aware that the Teenage Mutant Ninja Tur­tles are, in fact, teenagers, which means they're already pretty young. But in my pre­quel they'd be even younger.
Pre­teenage Mutant Ninja Tur­tles? Nope, not young enough.
Tweenage Mutant Ninja Tur­tles? Still not young enough.
Baby Mutant Not-Yet-Ninja Tur­tles? Way too young.
Tod­dler Mutant Ninja Tur­tles? Just the right amount of young.
If "Tod­dler Tur­tles" is sound­ing famil­iar, it's prob­a­bly because there were a few episodes of the 4Kids TMNT car­toon from 2003 that intro­duced the con­cept (as well as  the most adorable TMNT toys ever made). Flash­back episode "The Les­son" from the third sea­son gives us a fun glimpse into what the Tur­tles' child­hoods were like as they help a young Casey Jones over­come his trou­ble with bullies.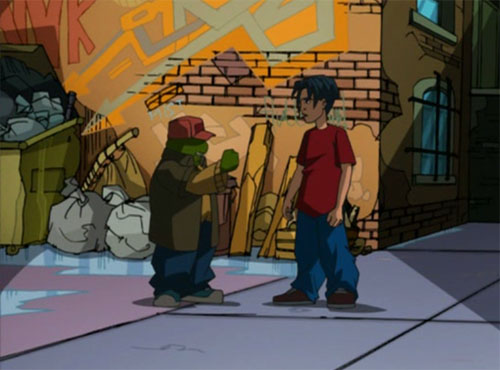 We also get to see Splin­ter train­ing the young tur­tle tots to be ninja: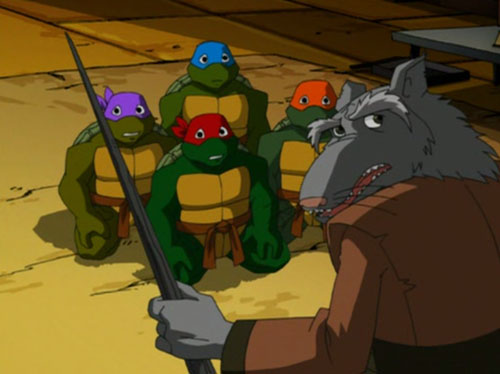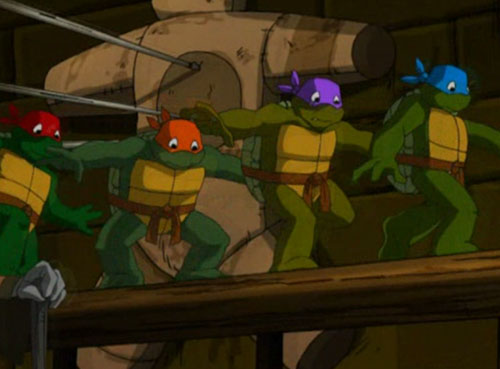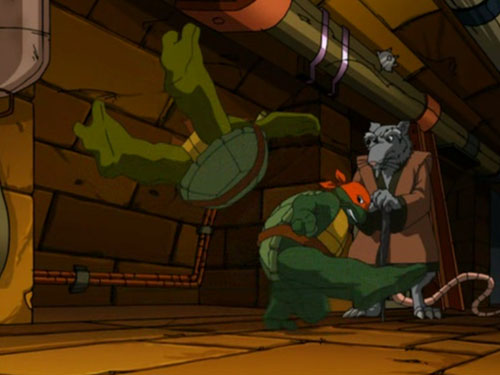 The Tur­tles get­ting into all kinds of mischief: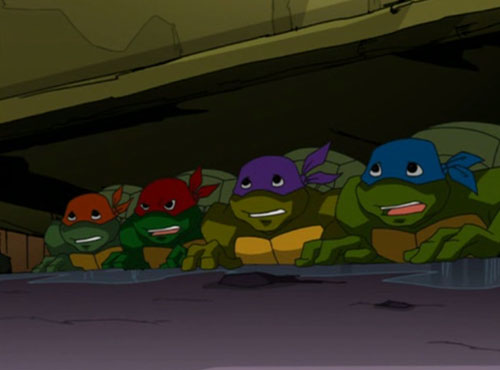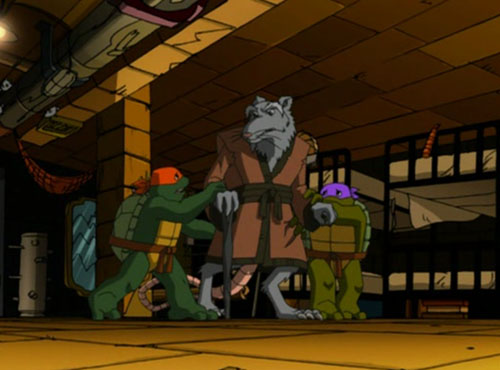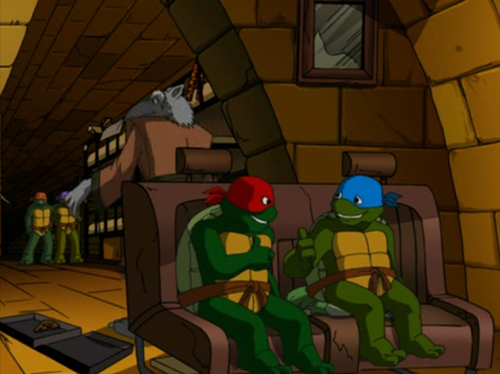 Going top­side for the first time: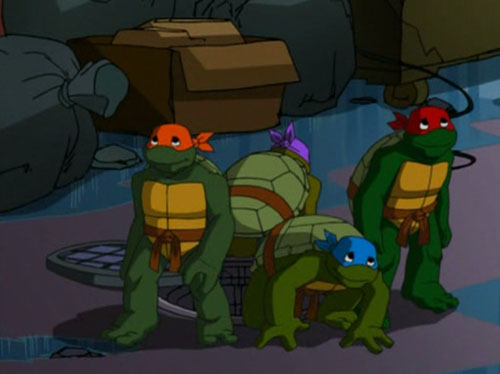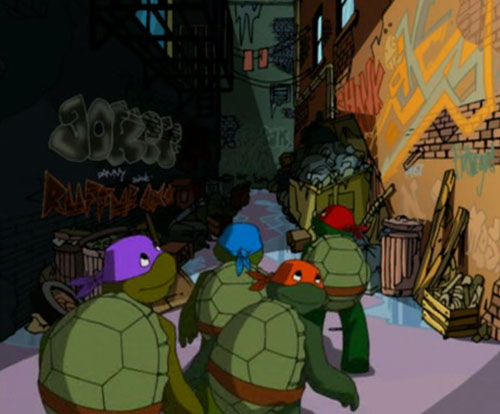 And of course, dis­cov­er­ing pizza: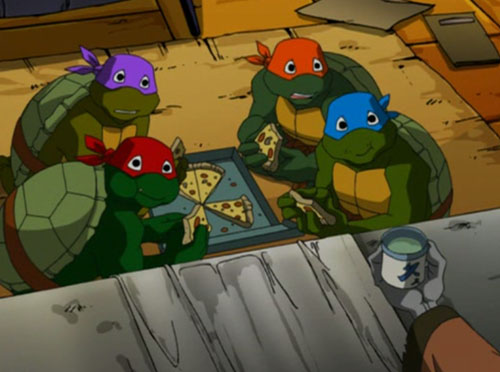 MOAR
TODDLER
TURTLES
PLZ
We get to see the Tur­tles as babies or unmu­tated tur­tles in almost every iter­a­tion of Teenage Mutant Ninja Tur­tles , but rarely do we get to see them as tod­dlers or young chil­dren. The prob­lem is, Tod­dler Tur­tles only appear in a cou­ple of episodes of the 4Kids car­toon, which is a shame because this could eas­ily be a stand­alone show or even a comic book series–perhaps some­thing like Mup­pet Babies, except Splin­ter wouldn't just be a pair of green-striped stock­ings (although now that I'm think­ing about it, that'd be pretty entertaining).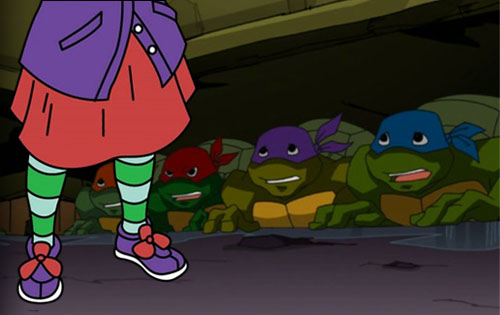 There's so much poten­tial for inter­est­ing sto­ries at this age, like how the Tur­tles and Splin­ter acquire things like fur­ni­ture, elec­tron­ics, and food over time, grad­u­ally trans­form­ing their sewer lair into a home. I want to see young Donatello becom­ing a geek and using a com­puter for the first time. I want to know where Raphael gets his tem­per from. I want to see how the young Tur­tles react and inter­act with the world and how it is they've come to know so much about it by the time they're teenagers. How did they come to choose their weapons (because I don't like this expla­na­tion )? I could go on and on.
Rather than water down the "teenage" and "ninja" aspects to make the fran­chise suit­able for kids, why not develop a whole show around the pre-teenage, not-quite-ninjas-yet Tur­tles? Not only would it help fill in the blanks for some of the burn­ing ques­tions TMNT fans have always had about the Tur­tles' early years, but it would be fun, kid-friendly, and most impor­tantly, insanely cute .
"
YOLO

!" and other retarded things young peo­ple say these days.

Won­der­ing what this is all about? This week The League of Extra­or­di­nary Blog­gers was assigned with devel­op­ing a "Young ____" series or pre­quel like Young Indi­ana Jones or Young Franken­stein. Here's what my homies in the League posted:
Redis­cover the 80s haz­ards a guess at what Young Dukes of Haz­zard would be like. (See what I did there?)
Good­will Hunt­ing 4 Geeks  wants to see young  Mon­sters vs. Aliens because why not?
Q the Adult has never seen Young Sher­lock Holmes (for shame!) but totally makes up for it by being a fel­low Harry Pot­ter fan.