Yes­ter­day I took a big step for­ward for my nerdy lit­tle cor­ner of the web here–I joined The League of Extra­or­di­nary Blog­gers . You could call them the Super Friends of pop cul­ture bloggers.
This week's assign­ment (my first!) was to come up with a Top 10 Movies list using any of our own themes or qual­i­fiers. I jumped right on it because I've been dying– DYING– to have an excuse to men­tion some of the obscure but awe­some '80s movies that I'm about to show you.
But first, let's talk about what it is that makes these films "obscure." When most peo­ple hear "80s teen films" they imme­di­ately think of John Hughes ( The Break­fast Club, Fer­ris Beuller's Day Off ), pop­corn flicks that star Michael J. Fox ( Teen Wolf, Back to the Future ) or raunchy sex come­dies like Porky's and  Fast Times at Ridge­mont High –all awe­some films, by the way. But for this teen movies list I wanted to focus on those lit­tle known (and con­se­quently under­rated) hid­den gems that I think deserve more attention.
So here they are, in no par­tic­u­lar order:
'Three O'clock High' — 1987
Three O'Clock High  is prob­a­bly the most well-known movie on this list, but I think it's just obscure enough to still qual­ify. It's exactly the right amount of obscure, if you will.
In case it's not glar­ingly obvi­ous from the poster, it's about a high school geek tak­ing on a high school bully. In other words, it's a film we've all seen many times before.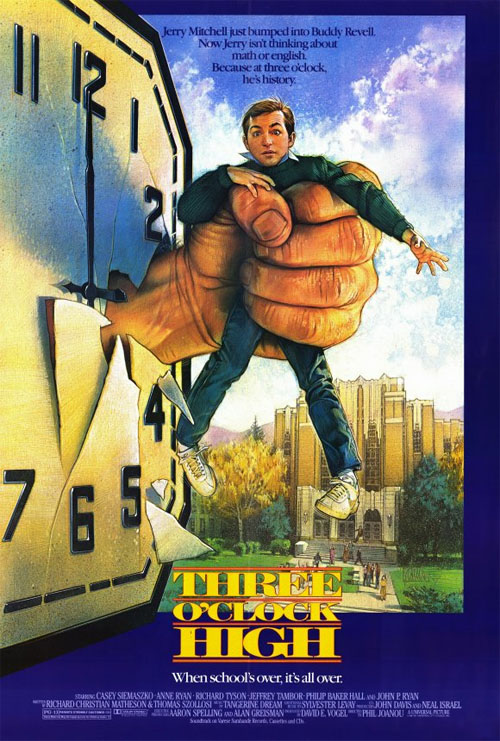 The film takes place over a sin­gle day in the life of Jerry Mitchell (Casey Siemaszko), who offends trans­fer stu­dent and rumored psy­chopath Buddy Rev­ell (played by douchebag extra­or­di­naire Richard Tyson, whom you'll prob­a­bly rec­og­nize as the bad guy from  Kinder­garten Cop)  when he acci­den­tally touches him. Buddy tells Jerry he's going to beat the shit out of him in the park­ing lot at–you guessed it–three o'clock. What fol­lows is a series of des­per­ate acts where Jerry tries to do every­thing and any­thing in his power to avoid the confrontation.
Why It's Awesome:
In short, the way it's filmed. There's all kinds of unusual cam­era angles, odd close-ups, slow-motion sequences, and other zany cam­era effects you wouldn't expect but which are all used to great effect to mag­nify the sense of dread that Jerry Mitchell feels. The Tan­ger­ine Dream sound­track helps, too.
'Just One of the Guys' — 1985
This is one of those movies I'm always sur­prised when peo­ple tell me they've never heard of it, which is a thing that hap­pens so often to me (prob­a­bly because it's my "go-to" '80s movie dis­cus­sion ice­breaker) that I felt oblig­ated to include it.  Just One of the Guys stars the beau­ti­ful if androg­y­nous Joyce Hyser as Terry Grif­fith, a pop­u­lar high school stu­dent who wants more than any­thing to be a jour­nal­ist. When her arti­cle for the school's con­test to win a sum­mer intern­ship at the local news­pa­per is rejected, she believes the school's sex­ist teachers–who don't take "pretty girls" seri­ously as writers–are to blame. Her solu­tion? Trans­fer schools and dress up like a guy!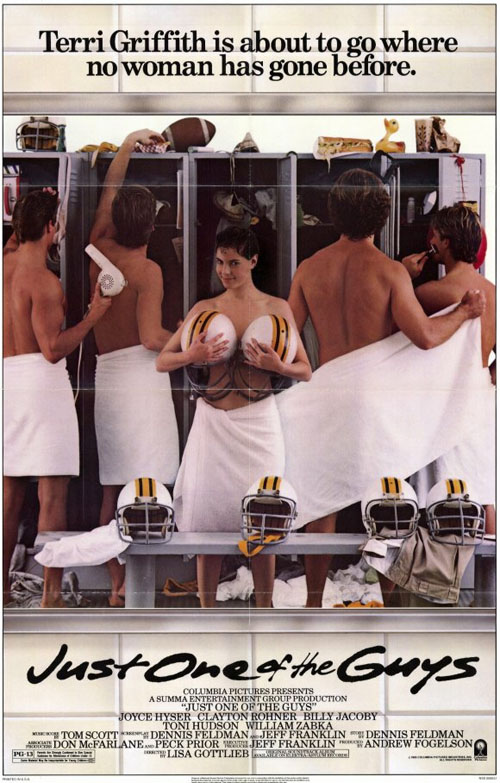 With the coach­ing of her sex-obsessed younger brother (played by the adorable Billy Jayne) and a wad of rolled-up socks, Terry (who con­ve­niently has a uni­sex name) gives her­self a trans­sex­ual makeover that could give Hilary Swank's Oscar-winning role in  Boys Don't Cry  a run for its money. Hilar­ity ensues as Terry ven­tures into for­bid­den places like the men's bath­room, gets bul­lied by the local jocks, hit on by other girls, and befriends–and even­tu­ally falls in love–with shy music nerd Rick More­house (Clay­ton Rohner).
Why It's Awesome:
The big reveal scene at the prom. It's the best "TITS OR GTFO" moment ever in a movie, and Rick's reac­tionary quote is one of my all-time favorites. Plus, for you Karate Kid fans, there's William Zabka (Johnny of the Cobra Kai!) doing his trade­mark tough-guy douchebag thing.
'Old Enough' — 1984
Old Enough is your typ­i­cal "two friends from oppo­site walks of life" com­ing of age story (think Lit­tle Dar­lings ) but has enough charm and real­is­tic inno­cence to make it a stand­out; some­thing that's largely due to the chem­istry between the two leads. Sarah Boyd stars as the wealthy but naive Lon­nie who meets scrappy but street­wise Karen (Rain­bow Har­vest, whose par­ents I sus­pect must have been hip­pies) one sum­mer day on the streets near her home in New York City. There's an almost imme­di­ate infat­u­a­tion between the two girls, who quickly become unlikely friends.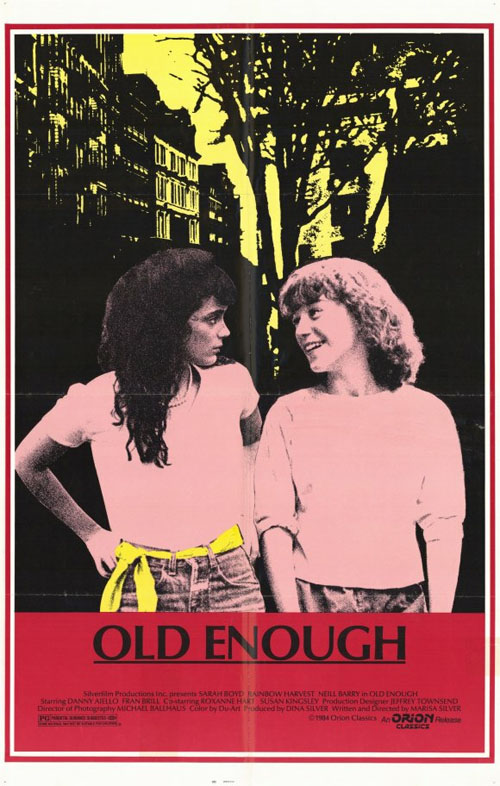 Lon­nie ditches sum­mer camp to hang out with Karen, who teaches her about things like boys, make-up and shoplift­ing, and in return Lon­nie tries to impress her own morals and upbring­ing. The whole film only takes place over a cou­ple of days, but in that time each girl does quite a bit of grow­ing up and the expe­ri­ence feels gen­uine. Along the way they have a few mis­ad­ven­tures, dis­agree­ments, awk­ward social sit­u­a­tions, and laughs. Noth­ing really earth-shattering ever hap­pens; the film is sim­ply a chron­i­cle of a few days in these two young girl's lives.
Have you ever gone away some­where and met some­one you felt you really con­nected with only to never hear from them again–but you'll always look back and remem­ber them fondly? That's kind of what Old Enough  is like. If you don't like slowly-paced char­ac­ter stud­ies, steer clear of this one. But if you give it a chance, you just might find your­self becom­ing mes­mer­ized by the act­ing and scenery as I did.
Why It's Awesome:
Old Enough  is filmed entirely on loca­tion in Manhattan's Lower East Side, so you're treated to a great sum­mer­time walk­ing tour of this part of the city. I love, love, love movies that take place in New York City, espe­cially movies that take place in the eight­ies  in New York City (blame my Ninja Tur­tles obses­sion if you must). Also, you get to see Alyssa Milano in her first movie as an adorable eight year old. She plays Lonnie's lit­tle sis­ter and lends some much-needed cute­ness and light comic relief, as some of the scenes get pretty angsty. Oh, and I almost for­got to men­tion the seri­ously synth-tastic score!
'White Water Sum­mer' — 1987
Speak­ing of sum­mer camp and com­ing of age sto­ries, White Water Sum­mer is another teen movie you should know about if you enjoy that sort of thing. It stars Kevin Bacon as Vic, a rather creepy wilder­ness guide hired by the wealthy par­ents of a young, intro­verted city boy named Alan ( Goonies-era  Sean Astin!) to accom­pany him and and three other boys on their first wilder­ness expe­ri­ence. Vic is a skilled "sur­vivor man" who's good at what he does, but has some­thing of a pushy camp counselor/big brother com­plex that he takes to extremes. He wants to make men out of his shel­tered, socially awk­ward recruits but his ego and over-abuse of author­ity turns what should be a fun hik­ing trip into their worst nightmare.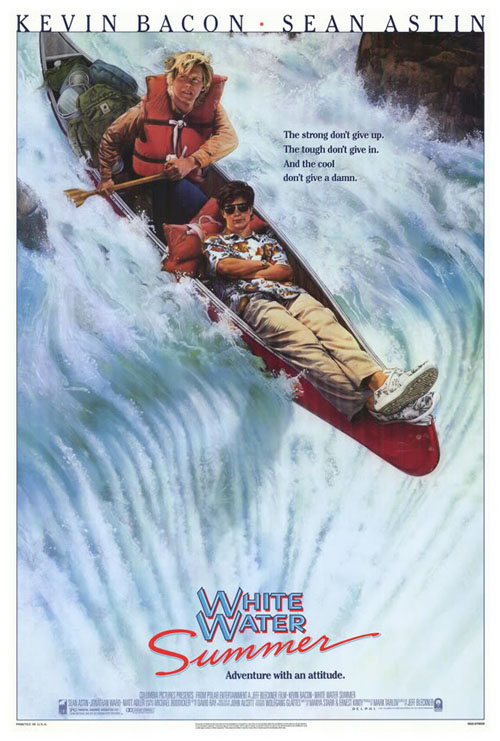 Why It's Awesome:
It's Kevin Fuck­ing Bacon .  Even bet­ter, it's  creepy  Kevin Bacon which is exactly how I like my Bacon. It also has a great sound­track fea­tur­ing music from Cut­ting Crew, Bruce Hornsby, The Cult and Jour­ney that evokes exactly the right feel­ing of "Hey, look at us young, vir­ile bunch of guys hik­ing around in the woods and doing cool out­doorsy stuff in the sum­mer of '87!" feel­ing you'd expect from a film like this. If you're a nature enthu­si­ast you'll also appre­ci­ate the rugged scenery, as much of it was actu­ally filmed in New Zealand (surprise!).
'Nice Girls Don't Explode' — 1987
Wow… Where do I even start with this one? I'm going to go out on a limb and esti­mate that at least 95% of you read­ing this have never heard of Nice Girls Don't Explode . I know you're already think­ing "Holy crap that's an awe­some movie title!" and you're right. The premise is even more awe­some: April Flow­ers (great name, huh?) is a teenage girl with a very "spe­cial prob­lem." That is, when April gets inti­mate with men she explodes!
Except not really. You see, April's mother, who loves her lit­tle girl more than any­thing and doesn't want her to be swept away by some man, has con­vinced April from the time she was a child that her hor­mones are all out of whack. She tells April she's a "fire girl," whose hor­mones can ignite fires when aroused and there­fore she'll never be able to get too close to men. How does she man­age to con­vince April of some­thing so ridicu­lous? By ignit­ing the fires her­self, of course.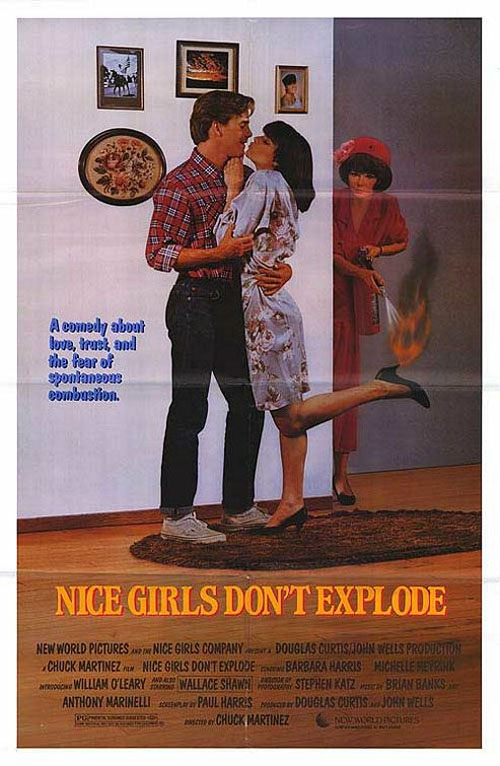 April's mom isn't exactly what you'd call nor­mal, either. She has aban­don­ment issues and some­thing of a June Cleaver com­plex, spend­ing her days metic­u­lously keep­ing house and bak­ing oat­meal cook­ies. Oh yeah, and craft­ing bombs in her kitchen! She stalks April on her dates and uses a remote con­trol to set off fires when­ever things get too steamy, usu­ally to the effect of April never hear­ing from her dates again. But things begin to change when Andy, April's child­hood sweet­heart, comes back into her life.
Why It's Awesome:
To really appre­ci­ate this movie, you'll need to keep your expec­ta­tions in check because I must warn you that it is extremely low bud­get. That being said, there is still plenty of awe­some here. For one thing it stars Michelle Meyrink (whom you might remem­ber hav­ing a nerd crush on in Real Genius ) as April; she's an actress I always wished did more things. "Mom" (you gotta love that she has no other name beyond that) is played by an extremely coy Bar­bara Har­ris who is so good at being such a smug bitch and at the same time you can't help but love her. But the best part has to be Wal­lace Shawn ("Incon­ceiv­able!"), the quirky, socially awk­ward pyro­ma­niac whom I guess you could describe as April's mom's bomb dealer. His scenes are hilar­i­ous and com­pletely steal the movie.
I also think it's worth men­tion­ing that the set design and dec­o­ra­tion for this movie (if you're the type who appre­ci­ates such things) is fan­tas­tic. I love the lit­tle details like the cookie mag­nets on Mom's fridge, her mid-80s era orange Tup­per­ware, and the bal­le­rina dolls in April's bed­room.  The film is like a per­fect time cap­sule of 1980s sub­ur­bia, and you can tell they they did the best they could with it.
'The Last Amer­i­can Vir­gin' — 1982
Atten­tion '80s music fans: please direct your eyes to the below poster for  all the rea­sons you need to see The Last Amer­i­can Vir­gin :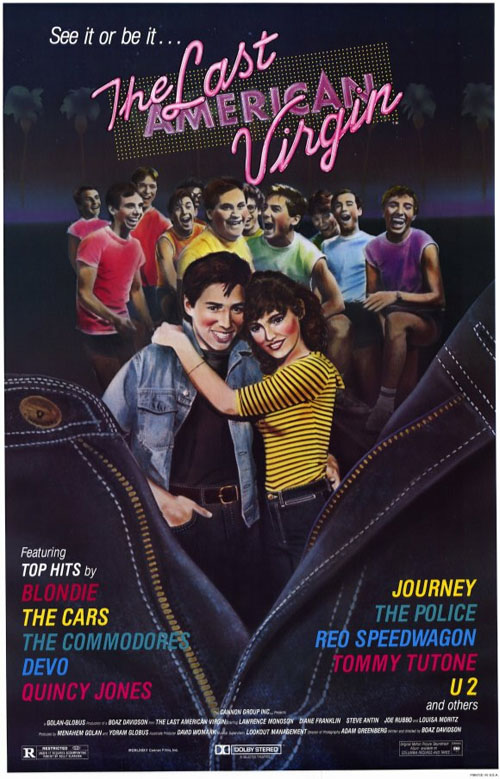 For the rest of you who came for the tits and cheese­ball com­edy, The Last Amer­i­can Vir­gin is like an early Amer­i­can Pie –it's about a cou­ple of horny high school guys who just want to get laid.  Gary and his bud­dies Ricky and David are look­ing for love in all the wrong places until Gary meets a beau­ti­ful new stu­dent named Karen (Diane Franklin, who despite hav­ing an over­grown almost-unibrow was blessed with incred­i­bly allur­ing eyes– JUST LOOK AT THEM! –and man­ages to some­how be insanely attrac­tive) who isn't as inno­cent as she comes off.
Gary soon finds him­self com­pet­ing against his best friend in a love tri­an­gle for Karen's affec­tion, lead­ing to some of the most angsty teen melo­drama (you know, the good stuff) you'll find in a movie that's sup­posed to be a raunchy '80s teen com­edy. What sets TLAV apart, though, is that it has a com­pletely unex­pected "WTF!?" end­ing that will ruin your day. It's like the film­mak­ers were all, "Oh, you were expect­ing a happy end­ing? Well fuck you."
Why It's Awesome:
Didn't I just tell you?
'A Night in the Life of Jimmy Rear­don' — 1988
Unless you're a die-hard River Phoenix fan, A Night in the Life of Jimmy Rear­don  prob­a­bly won't be famil­iar to you. (By the way, if you do describe your­self as a "die-hard River Phoenix fan," say hello or some­thing because I need to know you). Like I alluded to in my Last Amer­i­can Vir­gin  syn­op­sis above, Jimmy Rear­don is a film that suf­fers from being mar­keted as some­thing dif­fer­ent than what it actu­ally is. I mean, just look how stu­pid happy every­one appears to be on this poster: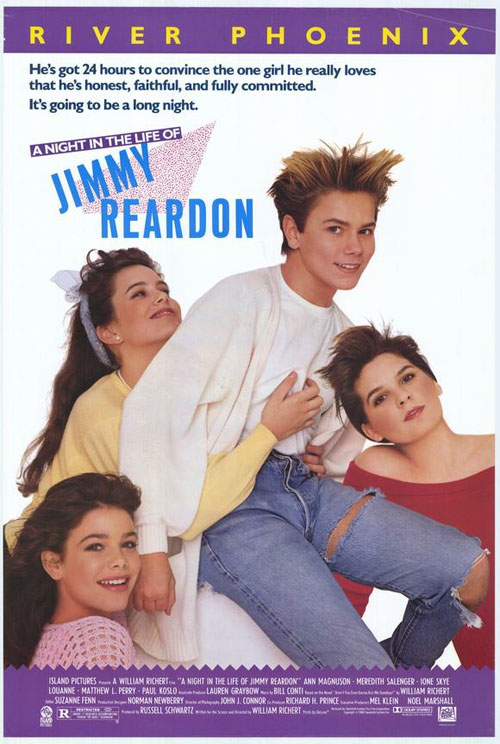 The actual movie is kind of a downer in the same way that What's Eat­ing Gilbert Grape? is. It's a mature com­ing of age film, not the shiny, happy but mind­less teen film the pack­ag­ing leads you to believe. There's quirky char­ac­ters and funny dia­logue but everyone's kind of an ass­hole with depress­ing life problems.
Jimmy is a rather jaded young man who's try­ing to fig­ure his life out while he smokes and sexes his way through it. He's actu­ally kind of a jerk, but he writes poetry (see? he's sen­si­tive!) and doesn't want to end up like his dad. The movie chron­i­cles a night (and unfor­tu­nate acci­dent) that will become a major turn­ing point in his life as he tries to find love and make peace with his father.
Why It's Awesome:
How many direc­tors do you know who wrote a semi-autobiographical novel and then directed a movie ver­sion? William Reichert did.   He made this movie at the height of River Phoenix's career and although it wasn't a very pop­u­lar or suc­cess­ful film (for many rea­sons beyond the director's con­trol) it's an impres­sive demon­stra­tion of his act­ing range and abil­ity. Plus, you get to see two incred­i­bly attrac­tive young peo­ple, Ione Skye and River Phoenix, get­ting it on. So there's that…
'Seven Min­utes in Heaven' — 1985
If you think Labyrinth was the only awe­some film Jen­nifer Con­nelly made in the '80s, you prob­a­bly haven't seen Seven Min­utes in Heaven  (I'd also point you toward Argento's hor­ror film Phe­nom­ena  from the same year).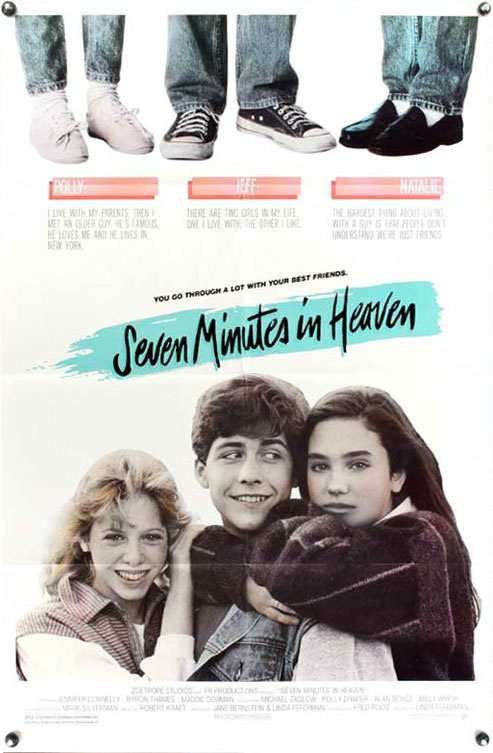 Jen­nifer Con­nelly stars as Natalie, a mature and stu­dious teen girl whose father is away for a few weeks on a busi­ness trip. Her good friend Jeff (Byron Thames), who's kind of a dork, talks her into let­ting him move in because his home life sucks. Mean­while, Natalie's other good friend Polly (played by Mad­die Cor­man) is obsessed with boys and throws her­self at a famous base­ball player. You might think this all sounds like a wild house party just wait­ing to hap­pen, but you'd be wrong. Rather, the film is an exam­i­na­tion of the types of sit­u­a­tions young peo­ple encounter on their way to becom­ing adults. The per­for­mances are out­stand­ing and sur­pris­ingly honest.
(Side­bar: What's with all these idi­otic par­ents in '80s movies leav­ing their teen kids home alone for weeks at a time? I'm look­ing at you  Risky Busi­ness  and  Just One of the Guys!  I'm not com­plain­ing, though, because it makes for inter­est­ing plots. )
Why It's Awesome:
Seven Min­utes in Heaven is a great lit­tle slice of '80s teen dram­edy that explores the friend­ship between three high school­ers and their blos­som­ing sex­u­al­ity. If you love movies like  Pretty in Pink  and  Some Kind of Won­der­ful , this is right up there with them.
'For Keeps' — 1988
An '80s teen film star­ring Molly Ring­wald that isn't directed by John Hughes or called  Fresh Horses ? DO GO ON!
For Keeps is the one about high school preg­nancy where she gets knocked up by her boyfriend and they have to decide what to do about the baby. It's a film that tack­les young love on the rocks, a promised career cut short, abor­tion, adop­tion, post­par­tum depres­sion, fam­ily drama, and all man­ner of other unpleas­ant things that go along with los­ing your child­hood too soon.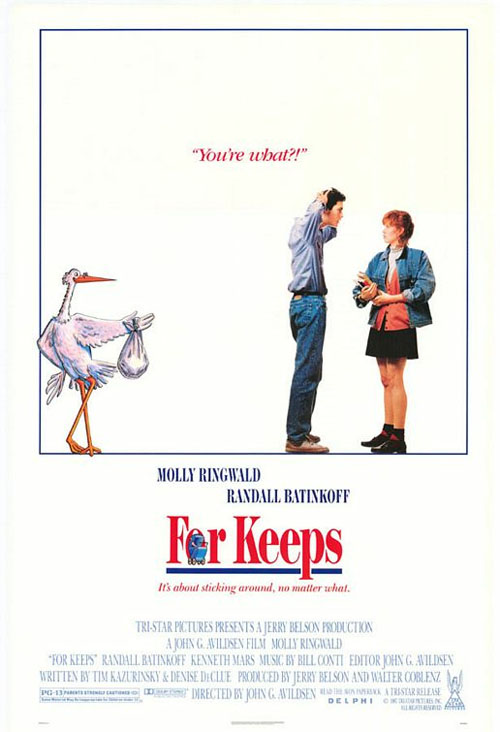 Why It's Awesome:
Because it's a much more accu­rate and hon­est depic­tion of the real­i­ties of teen preg­nancy ver­sus films like Juno where wealthy young cou­ples mag­i­cally mate­ri­al­ize to adopt your baby and all is for­given by being a cute, quirky hip­ster. And Molly Ringwald's per­for­mance is phenomenal.
'Teen Witch' — 1989
Teen Witch  is one of those movies you watch because it's SO AWESOMELY BAD that it's some­how good.
As far as '80s movies go, Teen Witch arrived at the tail end of the decade after all the good teen movies had come and gone, the hun­gover house party guests were leav­ing, and the more seri­ous era of the early '90s were upon us.  It's as if the '80s were des­per­ately cling­ing to what­ever was left and hurled them­selves directly at this movie.  Teen Witch  is an '80s fan­tasy movie that has the hair, the fash­ion, the req­ui­site flimsy premise, and a bunch of ter­ri­ble, ter­ri­ble, pop songs you should never lis­ten to out­side of watch­ing this movie.
And it has this God-awful poster and tagline, too: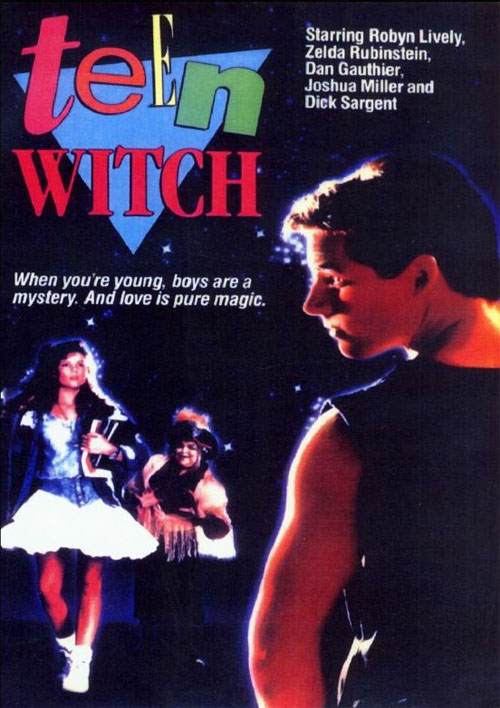 Louise Miller (Robin Lively–hey, remem­ber her from Karate Kid 3 ?) is a shy, nerdy high school girl who learns one day that she's descended from the witches of Salem and has inher­ited mag­i­cal powers…which dis­ap­point­ingly only seem to work when she's wear­ing her mag­i­cal amulet. With the help of an expe­ri­enced witch/fortune teller Madame Ser­ena (Zelda Rubin­stein), she uses her pow­ers to make her­self more pop­u­lar and win the heart of the high school foot­ball cap­tain. But her upgraded social sta­tus almost comes at the price of her best friend Polly's friend­ship, and Louise begins to ques­tion if its right to cheat her way to popularity.
Why It's Awesome:
Because it has out­ra­geously cheesy song & dance num­bers like this , this , and this . And who doesn't love Zelda "Come into the light Carol Ann!" Rubin­stein? Nobody, that's who.
Final Thoughts
Yes, I real­ize some of these movies are way more obscure than oth­ers, but that's okay. If this list of '80s teen films has intro­duced you to at least one movie you've never heard of that looks even mildly awe­some, I will con­sider my mis­sion accomplished!
Other Top 10s from The League: