This is going to be one of those posts where I have no choice but to embar­rass myself a bit, as you're no doubt won­der­ing why I'm even post­ing about air fresh­ener in the first place. Obvi­ously I must have had a need to use it–I'll just leave it at that.
Pos­si­bly the only per­son on the inter­net who might appre­ci­ate this post is Shawn Robare over at Branded in the 80s , whom I recently learned has an affin­ity for old cans of Fresh'n Up room deodor­iz­ers and pas­tel toi­let paper . This one's for you, Shawn.
I was over at my grandmother's house for din­ner this past Wednes­day, as is our rit­ual every Wednes­day, since she lives nearby and it's how we keep up. Any­way, after din­ner I was using her bath­room (no need for details) when I dis­cov­ered this: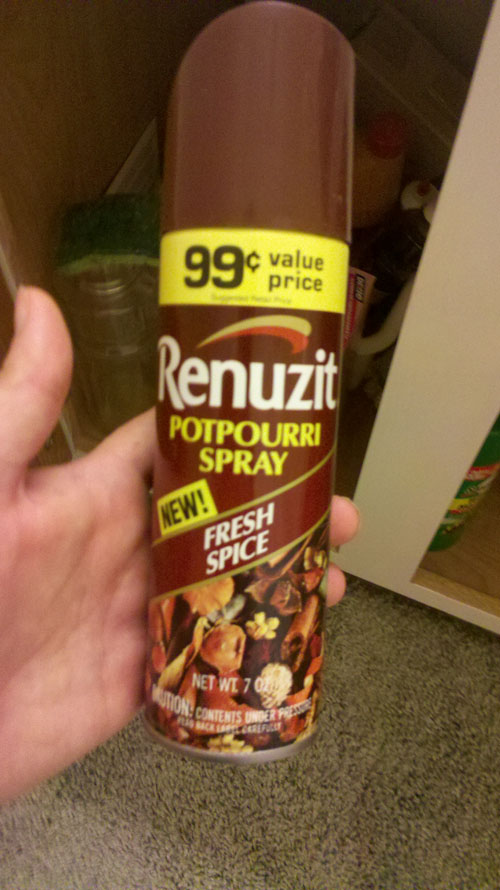 The dated shit-brown col­ored pack­ag­ing and 99 cent pric­etag gave me instant pause–I knew right away this must be some lost relic of the past. Not to men­tion you don't see the word "pot­pourri" used too often these days. Sure enough, when I looked a lit­tle closer, I find this is a can of air fresh­ener from 1989.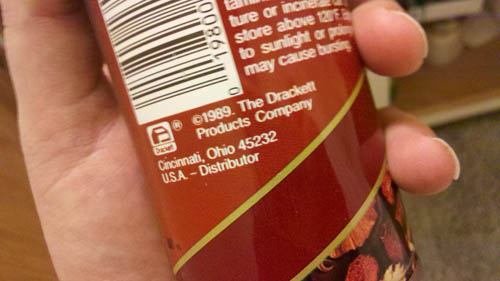 Three thoughts imme­di­ately pop into my head:
How the hell does my grand­mother still have this in her bathroom?
Why is it still 

FULL

?
Does it still smell good? (After all, doesn't stuff like this expire?)
With no other options under the sink, and no matches in the vicin­ity, I knew what had to be done.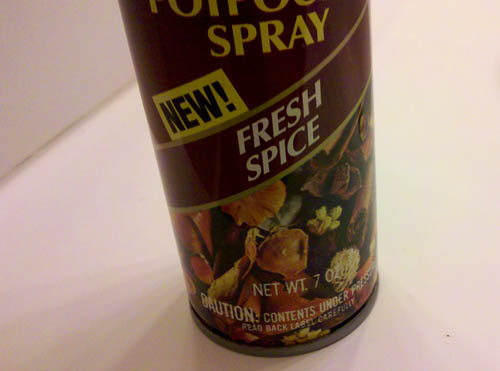 What does it smell like?
The scent printed on the can is the generic-sounding "Fresh Spice," which was appar­ently brand new at the time my grand­mother bought this. I wouldn't exactly describe the smell as "fresh," but I sup­pose that's to be expected some twenty-three years later. It smelled over­whelm­ingly like cin­na­mon, but also with a heavy under­tone of ammo­nia; prob­a­bly because it had been fes­ter­ing for so long before I found it. The smell wasn't bad , but it was very powerful–like walk­ing into the fac­tory where they make  Red Hots , or so I imagine.
I'm also happy to report it was still effec­tive at cov­er­ing up any, er, unpleas­ant­ness. Pretty impres­sive for a prod­uct over two decades old. Thanks to Renuzit's late eight­ies scent tech­nol­ogy, cri­sis was averted!
P.S. I put the can back under the sink and didn't say a word to my grand­mother. I decided this will be a fun game to play with myself when­ever I visit–how long will the can of 1989 air fresh­ener survive?