This week's  assign­ment  from The League was to write about which of our favorite TV treasure-hunting show hosts we'd love to spend a week with and why.
I'm going with Mike Wolfe and Frank Fritz from Amer­i­can Pick­ers :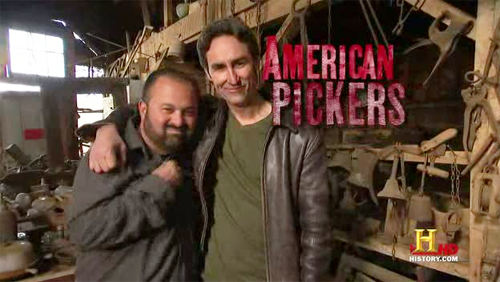 It was an easy deci­sion for me, because I already had a ready-made answer in the form of this blog post that I wrote a few months ago, in which I describe my ideal treasuring-hunting TV show con­cept that I'll re-post here:
"Pick­ers" for Gamers

You know the show  Amer­i­can Pick­ers  on the His­tory chan­nel? Well this would be  pretty much the same thing except a pair of nerds—the less socially skilled and more awk­ward the better—would go around to yard sales, liq­ui­da­tions, pri­vate col­lec­tors' homes, maybe even Craigslist and Ebay in search of rare and valu­able video games and gam­ing col­lectibles. You know, stuff like the  Medieval Mad­ness  pin­ball table,  Air Raid  for Atari 2600, or the  Vir­tual Boy   (just kid­ding about that last one–nobody really wants one of those things).

On the real Pick­ers , hosts Mike Wolfe and Frank Fritz nego­ti­ate to the point of high­way rob­bery. This show would be the oppo­site because gamers are sen­ti­men­tal fan­boys who are known to put things like rare, ridonku­lously expen­sive Neo Geo car­tridges ahead of their finan­cial future–which is part of the appeal too, so that we at home can all have a good laugh about it.

Work­ing Titles:

Epic Looters
Shit Gamers Will Pay Obscene Amounts of Money For
// end of re-post
But seri­ously, folks…
Pick­ers is a great show, but for me the for­mula tends to get old. If you've seen one rusty old bicy­cle part, you've seen them all. Of course, I don't col­lect things like rusty old bicy­cle parts but I'm sure those types of finds are much more inter­est­ing to some­one who does. I watch Pick­ers  because some­how hosts Mike Wolfe and Frank Fritz man­age to make things like rusty old bicy­cle parts a hell of a lot more inter­est­ing. And also to catch glimpses of their occa­sional gaming-related finds, like in that Sea­son 3 episode that was all about  vin­tage pin­ball machines .
I'd love to see Mike and Frank pick stuff like this: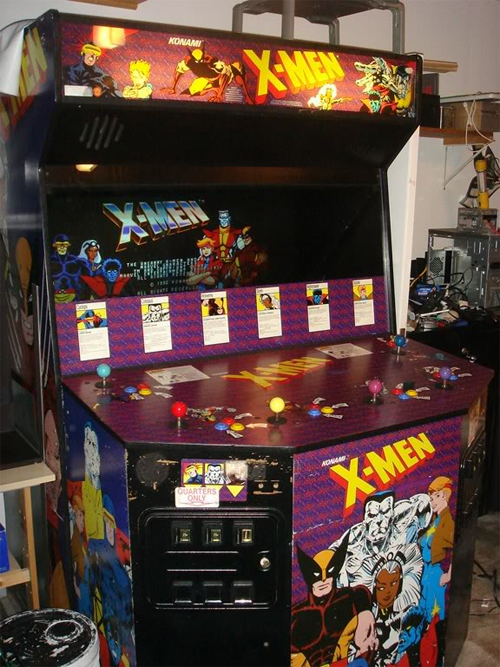 Did you know the aver­age age of U.S. gamers is now 30 years old? I hap­pen to be a gamer and exactly 30, so I'd con­sider myself the tar­get demo­graphic for a show like the one I described above. There's a whole gen­er­a­tion of peo­ple just like me out there with vast stock­piles of poten­tially rare or valu­able plas­tic things from Japan that we're all try­ing to fig­ure out how to store or sell off to other nos­tal­gic gamers who have invested as much time and money in their col­lec­tions as the rest of us.
Mike Wolfe and Frank Fitz are the type of guys that'd be per­fect to send into the funky, uncharted depths of the aver­age video game hoarder's nerd lair. I don't know how they're able to main­tain a straight face at some of the weird, tooth­less coun­try trolls they encounter with piles of ran­dom crap on their lawns big­ger than Space­ship Earth, but they han­dle it like pros. Just imag­ine how they'd inter­face with know-it-all, overly-territorial gamers. I bet nego­ti­at­ing wouldn't be as easy.
That's why I'd spend a week with the Pickers–to inject some much needed nerd­stal­gia and appre­ci­a­tion for vin­tage gam­ing into a show that's miss­ing the boat on roughly 44% of the U.S. population.
Update 8/1/2012 — This is exactly the kind of thing I'm talk­ing about:
Leg­end of Zelda pro­to­type car­tridge goes to auc­tion for $150,000
Other Trea­sure Hunt­ing Tan­gents from The League